Country House Weddings owned Clearwell Castle is incredible! Aimee and Simon chose another wedding venue initially but received bad customer service following the Covid pandemic and needing to postpone the day. Luckily Country House Weddings delivers amazing customer service so Aimee and Simon were relieved to book their special day at Clearwell Castle instead. Aimee and Simon finally had such a special day in October 2021 and I was very excited filming it as Pete and I had booked our wedding at Bourton Hall for April 2022, which is also owned by Country House Weddings!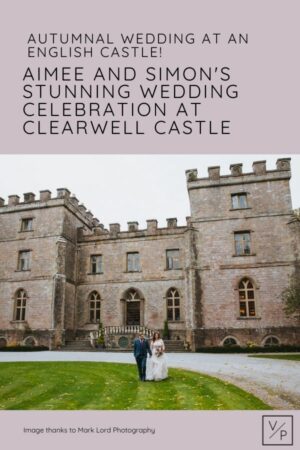 CLEARWELL CASTLE WEDDING VIDEO – AIMEE AND SIMON – A SNEAK PEEK
A sneak peek film edited within 72 hours of the wedding. Whilst I edit the longer films, couples enjoy a short edited film of the day. It's great for including some natural audio and a few favourite clips from the day.
Full length feature film
Due to music copyright law, our full length feature films aren't available to watch online. Pop your email into the box below and we can send you some examples which include the formalities in full.
BRIDAL PARTY PREPARATIONS IN THE GRESHAM HONEYMOON SUITE AT CLEARWELL CASTLE
Aimee wore her hair down styled with gorgeous waves by Hair by Hannah Addis. She wore a moon themed halo crown from Honey and Ember with a stunning full length veil. Aimee chose natural looking makeup with a stunning red lipstick to really compliment her bridal bouquet. Aimee Stokes Beauty did a wonderful job, Aimee's makeup looked beautiful all day. The gorgeous Stella York dress was something Aimee originally didn't think she would go for when trying on dresses but loved it when she found it at Pure Couture Bridal.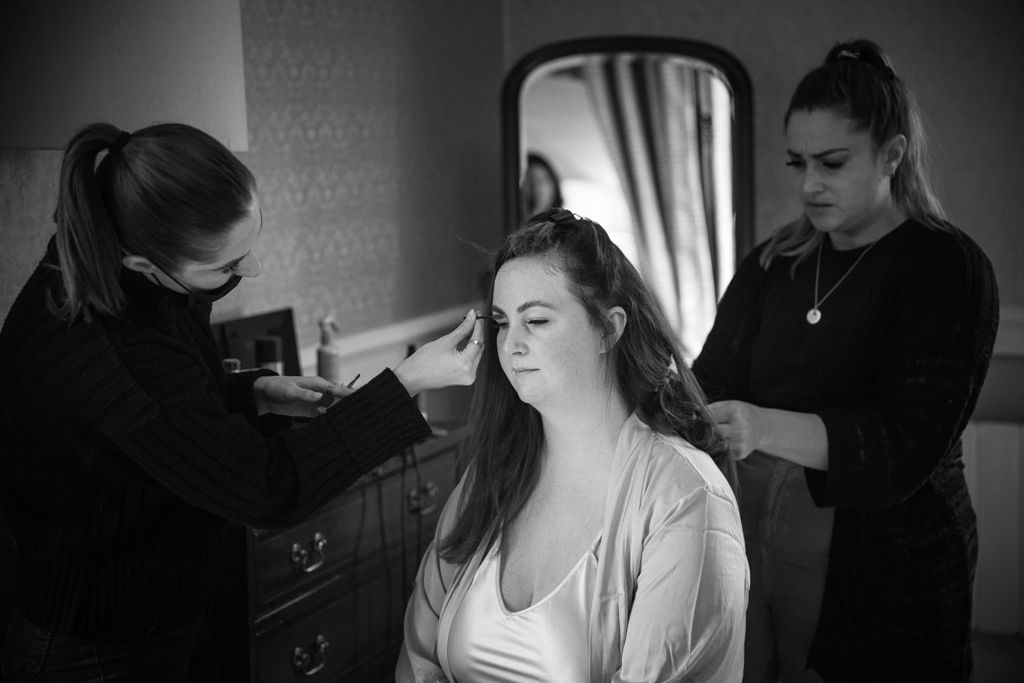 One of my favourite moments on the day is when the couple's closest family and friends help with getting ready. There's usually lots of laughter and excitement!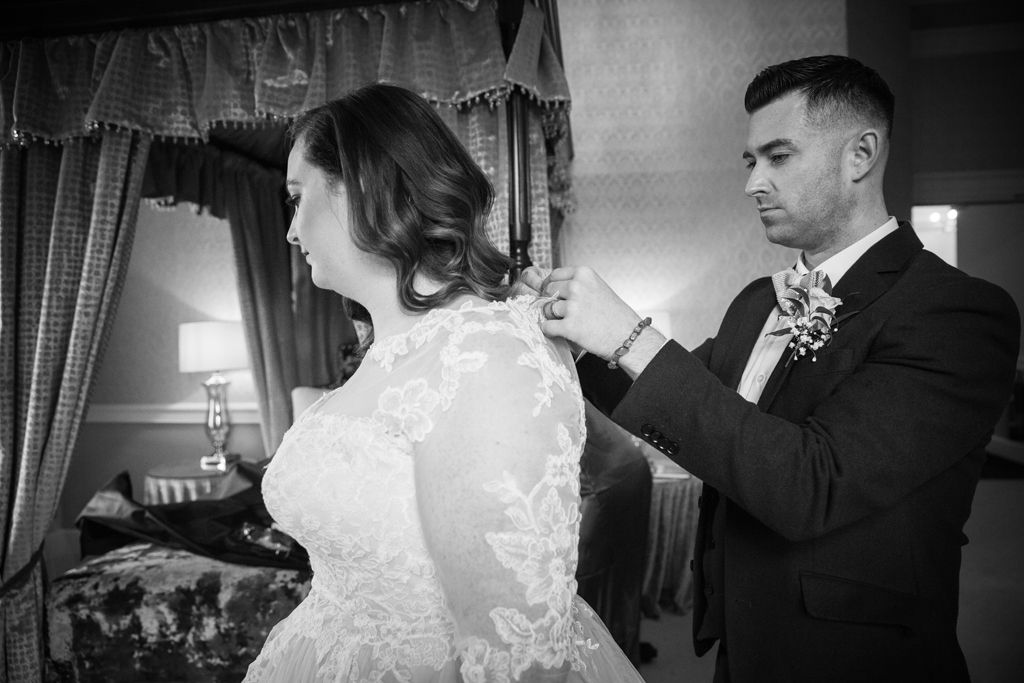 GROOM'S PARTY PREPARATIONS AT CLEARWELL CASTLE
The great thing about Clearwell Castle is that they have rooms onsite. This means the wedding party can get dressed before the ceremony without having to travel. From a video perspective this worked really well as I could film both Aimee and Simon. It's great for them to watch back too as it's part of the day they didn't spend with each other.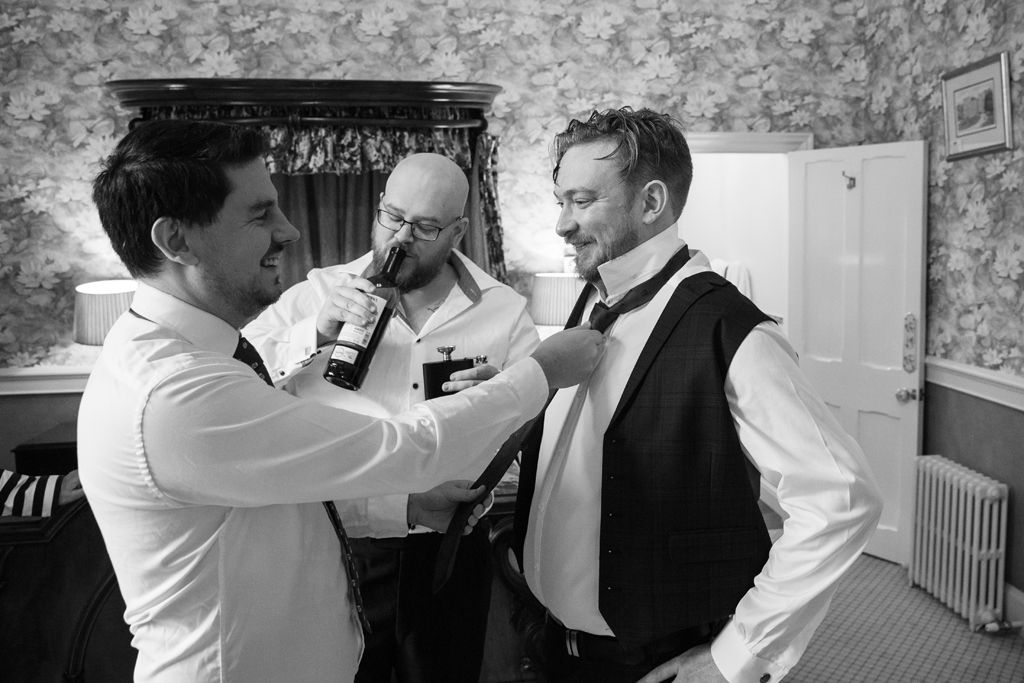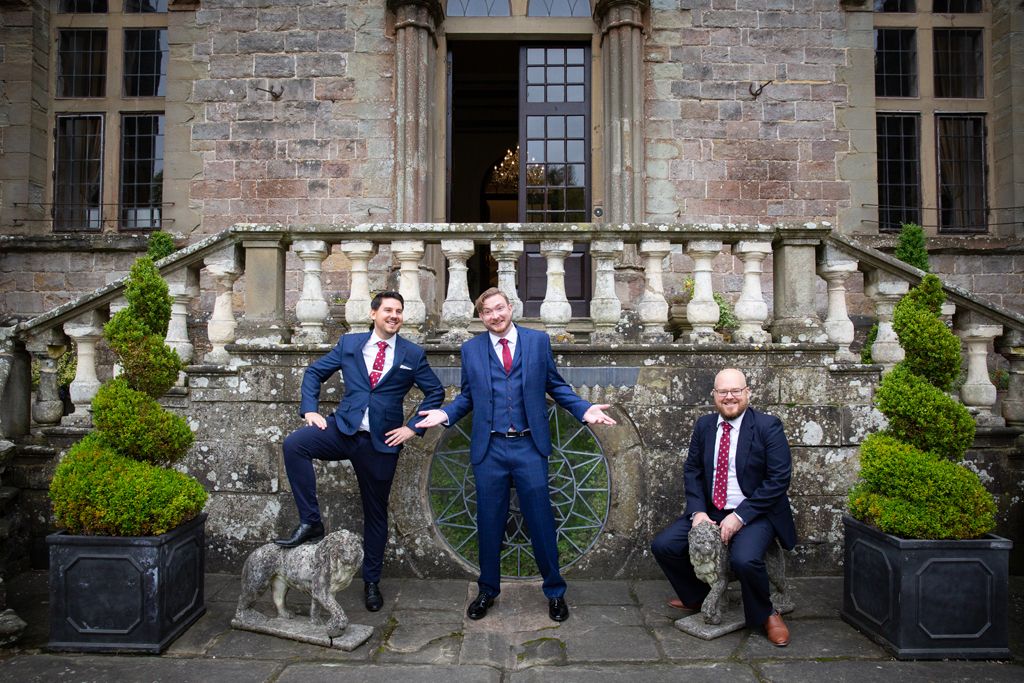 WEDDING CEREMONY IN THE BALL ROOM AT CLEARWELL CASTLE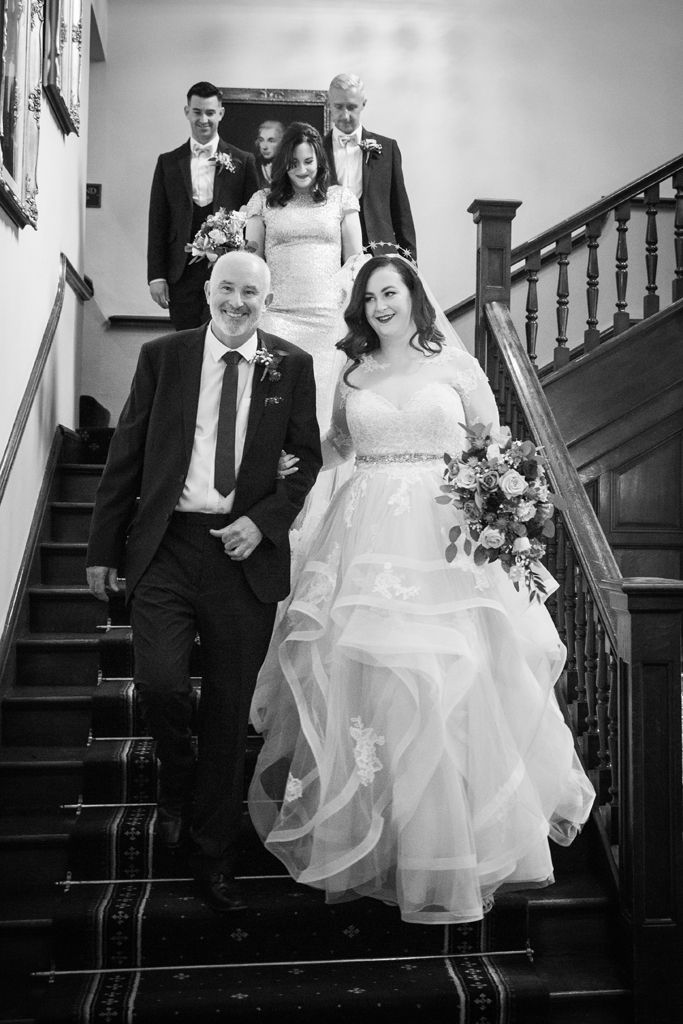 Something not often talked about in the wedding industry is nerves. walking down the aisle can be very nerve racking and for Simon it was quite difficult to cope with. To help with the nerves a screen was put up during the ceremony so that Simon and Aimee could exchange their vows without so much pressure. Once Aimee arrived at Simon's side then everything went very smoothly and they both could relax.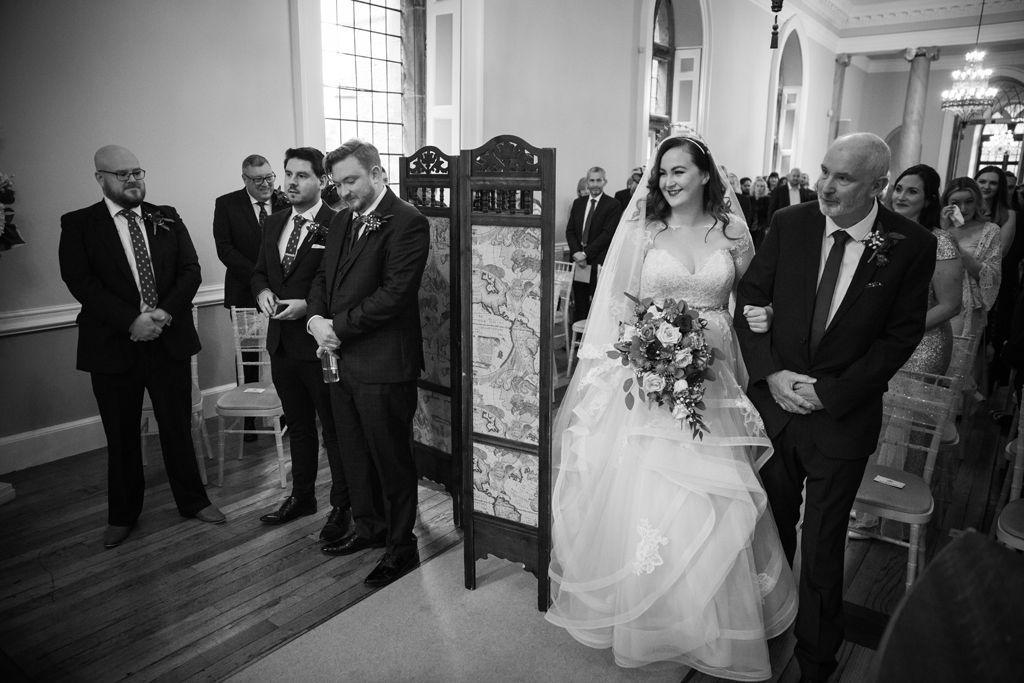 To help combat the nerves the civil ceremony itself was kept quite short, Aimee and Simon said their vows and exchanged rings and then Worcester String Quartet played whilst they signed the register.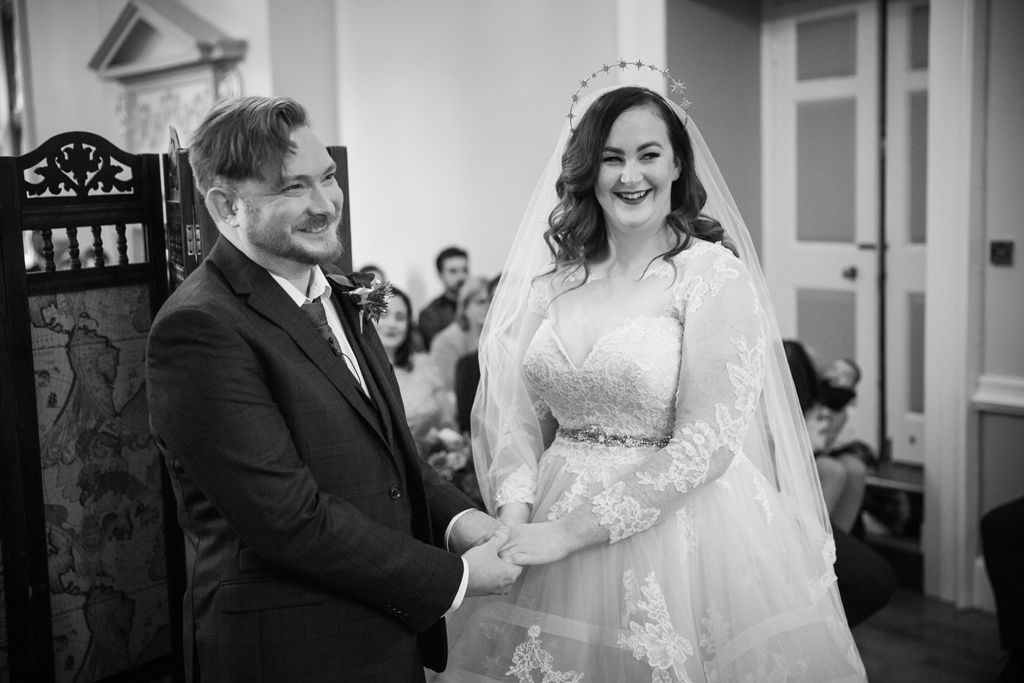 WEDDING RECEPTION IN THE BALL ROOM AND ENTRANCE HALL AT CLEARWELL CASTLE
COUPLES PHOTOS IN THE GARDENS AND GROUNDS OF CLEARWELL CASTLE
Mark from Mark Lord Photography did a wonderful job capturing Aimee and Simon's wedding photos. Working alongside Philip they both captured the natural moments as well as the formal photographs with Aimee and Simon's families.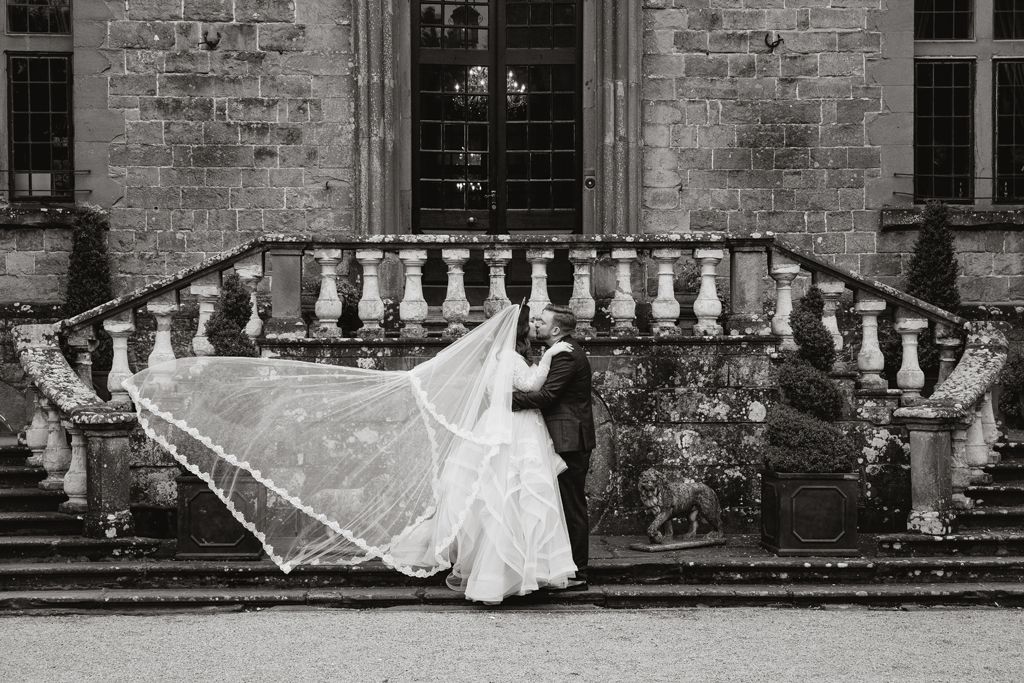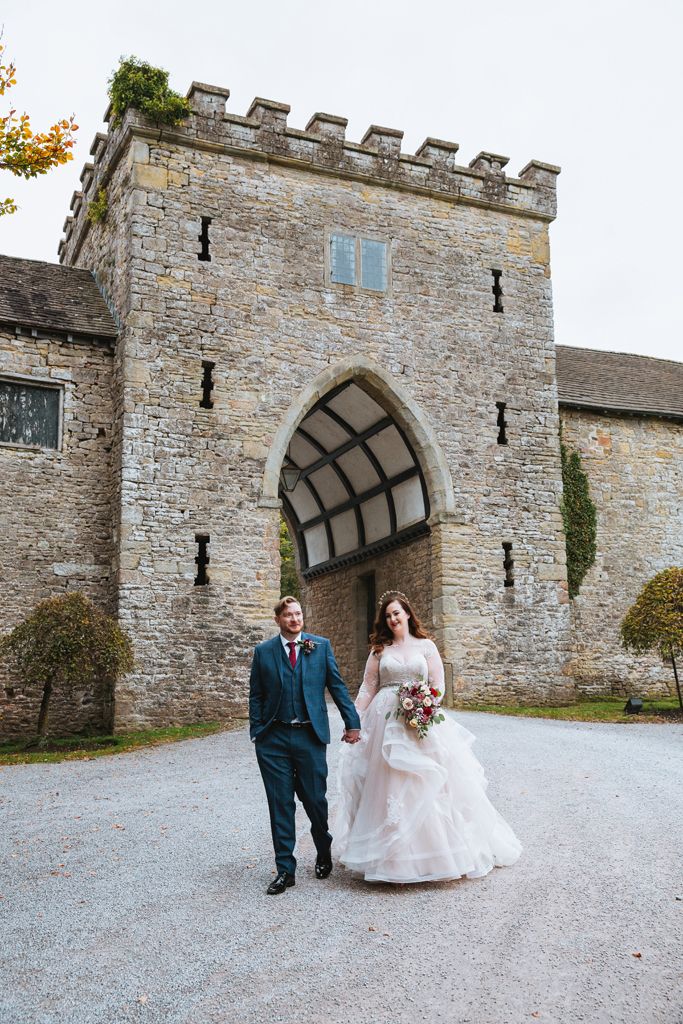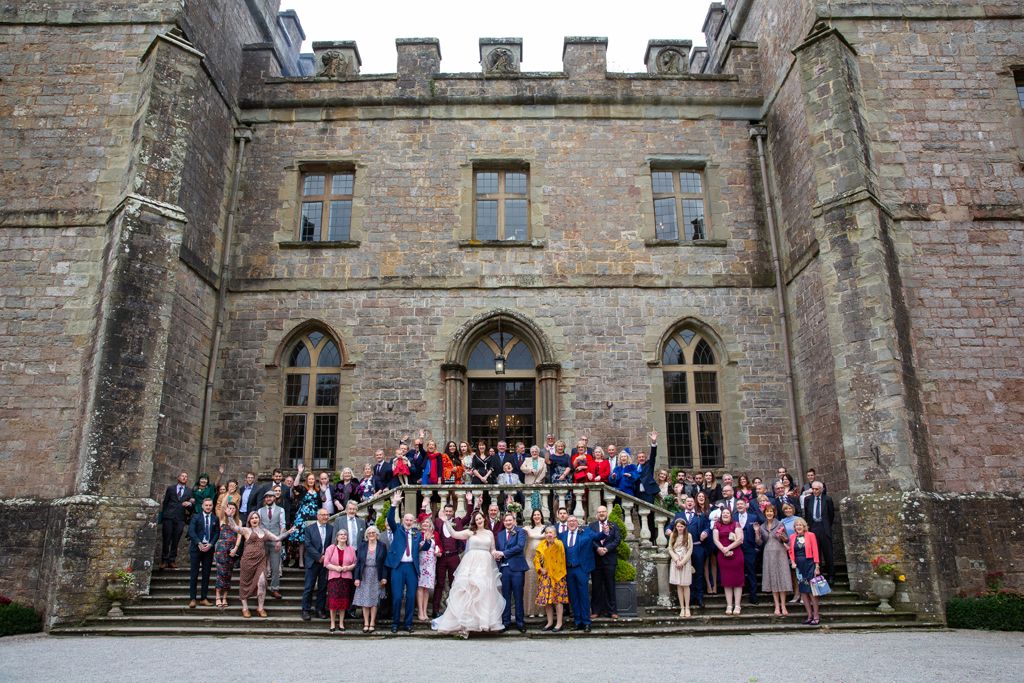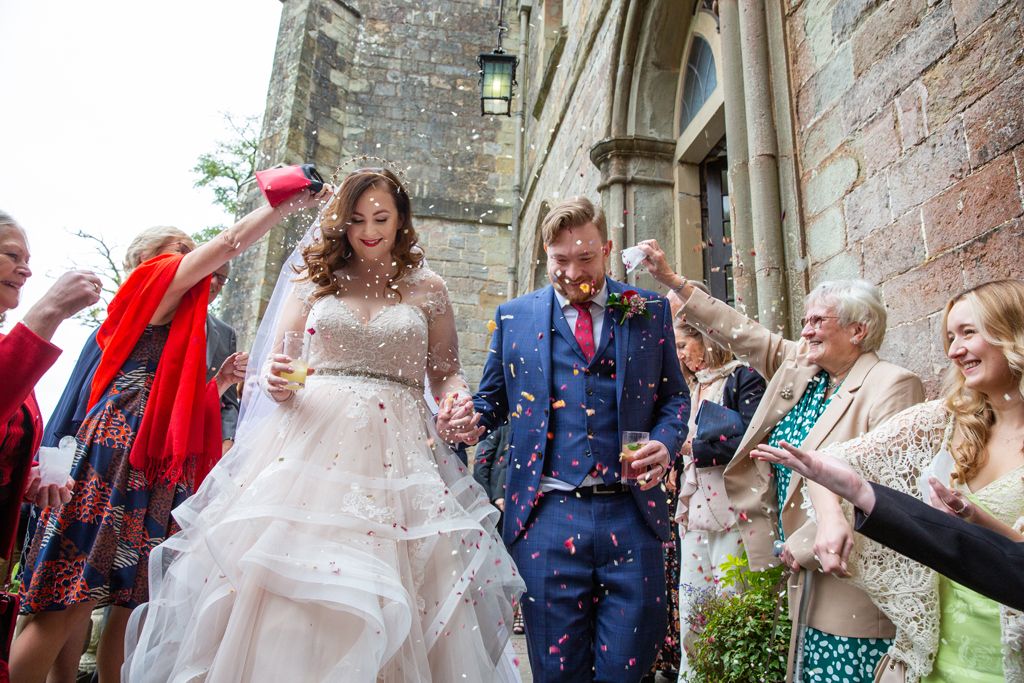 STUNNING FLORISTRY AND DECOR
Aimee and Simon chose florist and venue decorator Hireheaven, who are local to them in High Wycombe. The flowers looked incredible and the arch really stood out with the table centrepieces. The four tier wedding cake by Isabels Bakehouse looked amazing in the centre of the entrance hall to Clearwell Castle, it instantly caught the guests attention with the nod to Star Wars cake toppers on the top tier!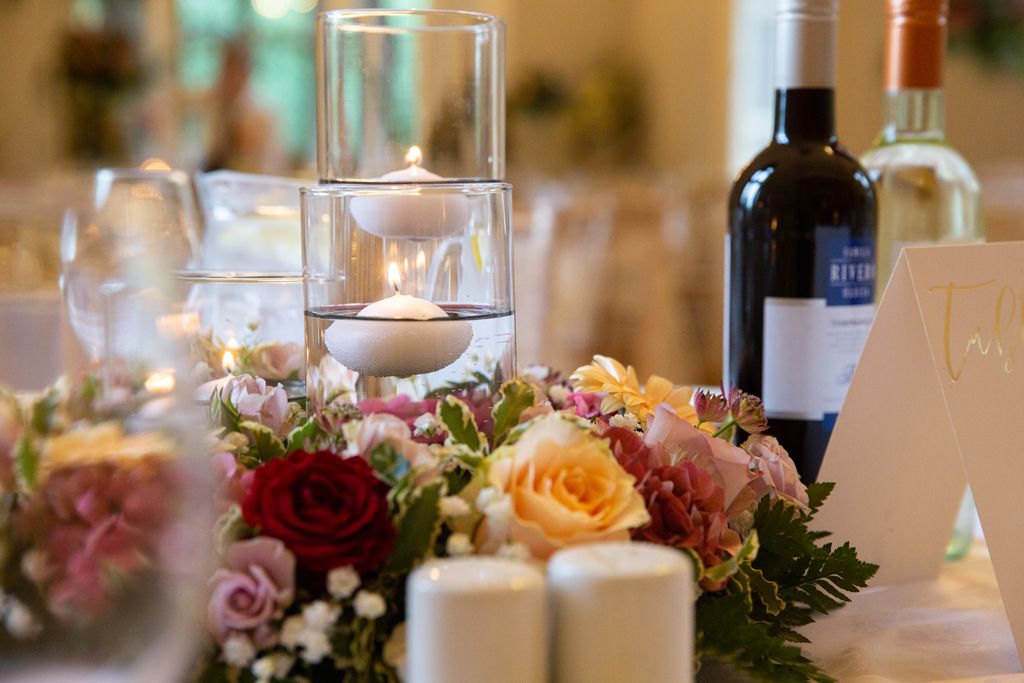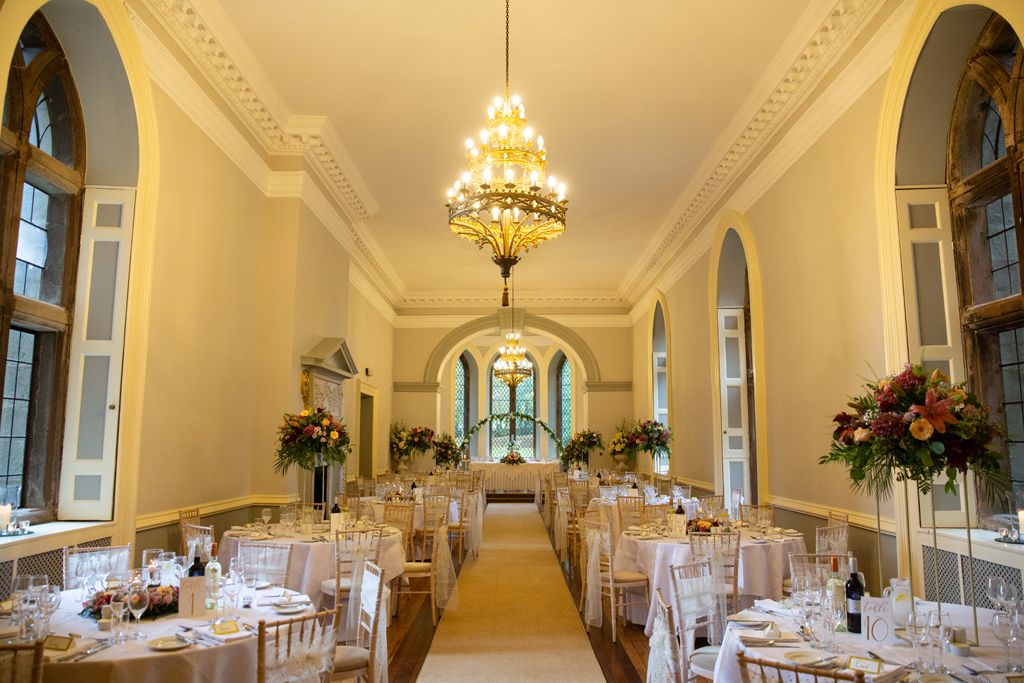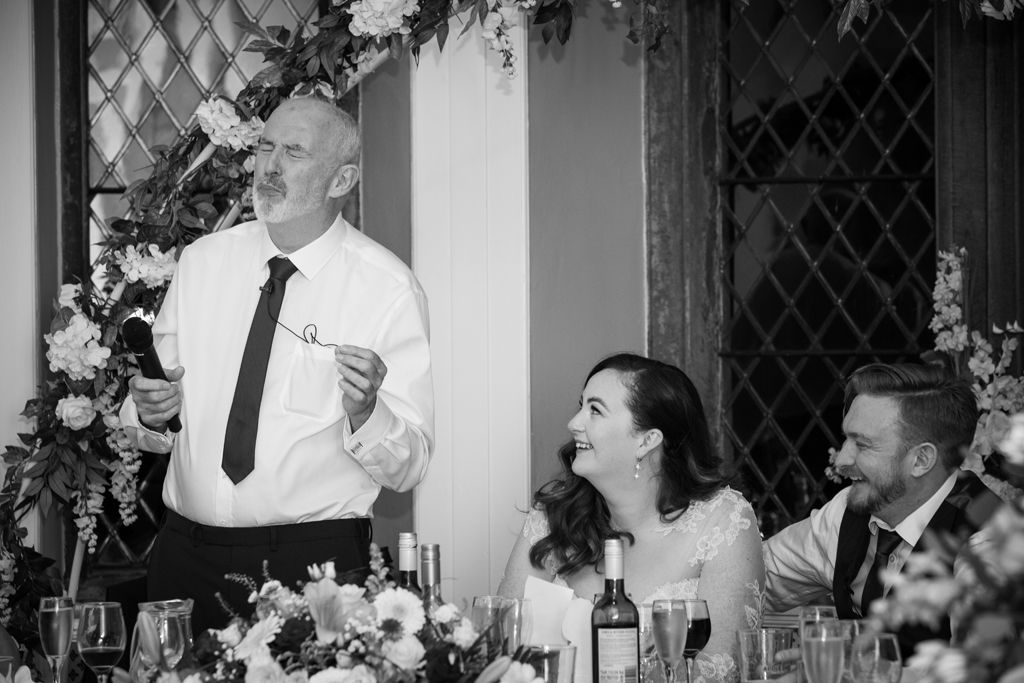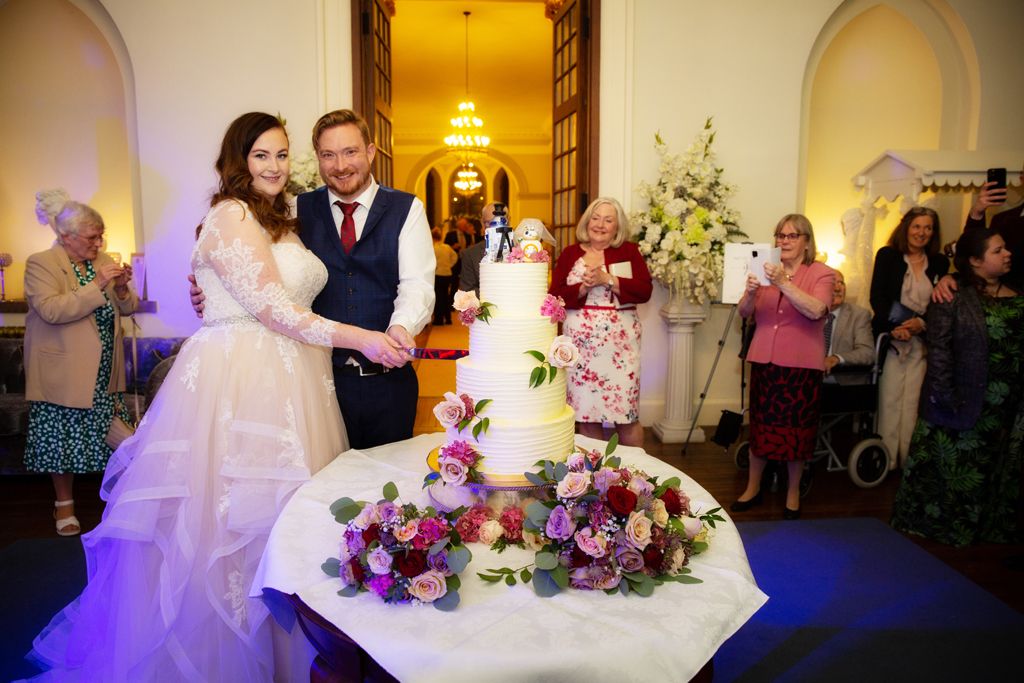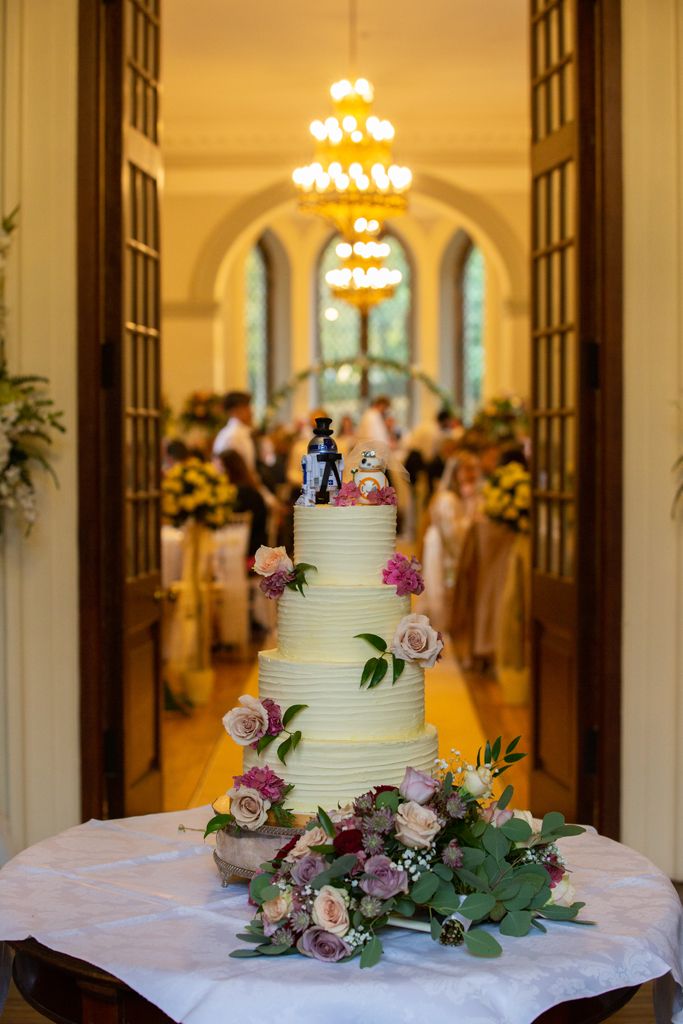 TIME TO PARTY!
When first talking with Aimee and Simon they told me how important a good band was to them they chose Ubermeister band and wow they weren't disappointed! Lots of people were up on the dance floor, dancing in the entrance hall of Clearwell Castle.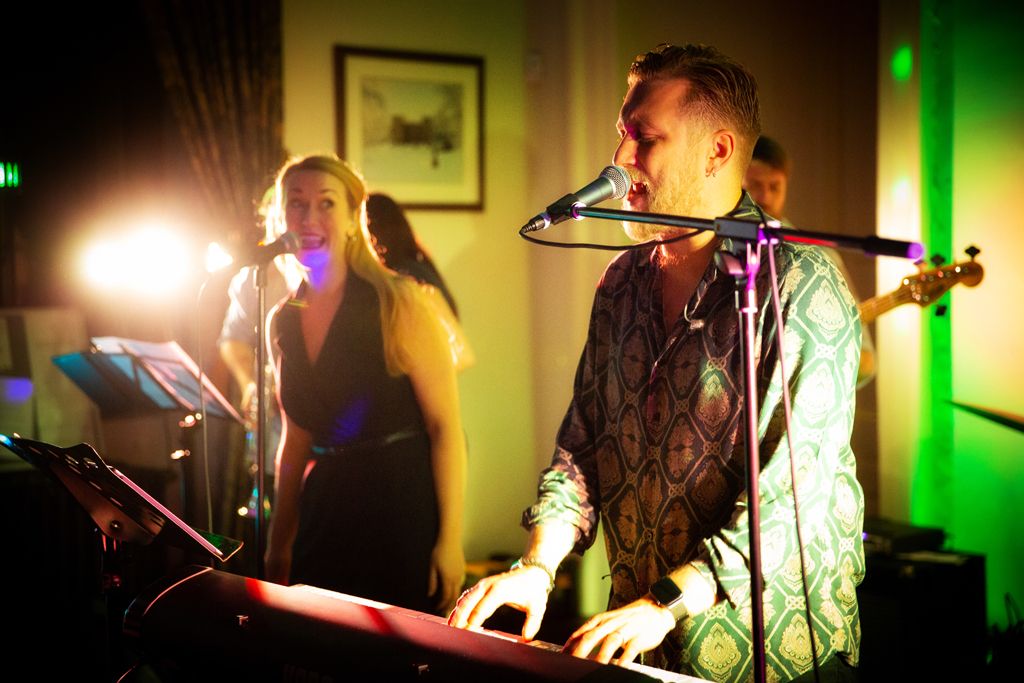 My favourite moment of the day was Amy and Simon's first dance. I love how natural they are together and the laughter that followed on the dance floor really showed how much they love each other. I always love a photo booth during the evening reception as it's so great capture the laughs. Aimee and Simon chose a magic mirror style booth from Deckstar Deluxe.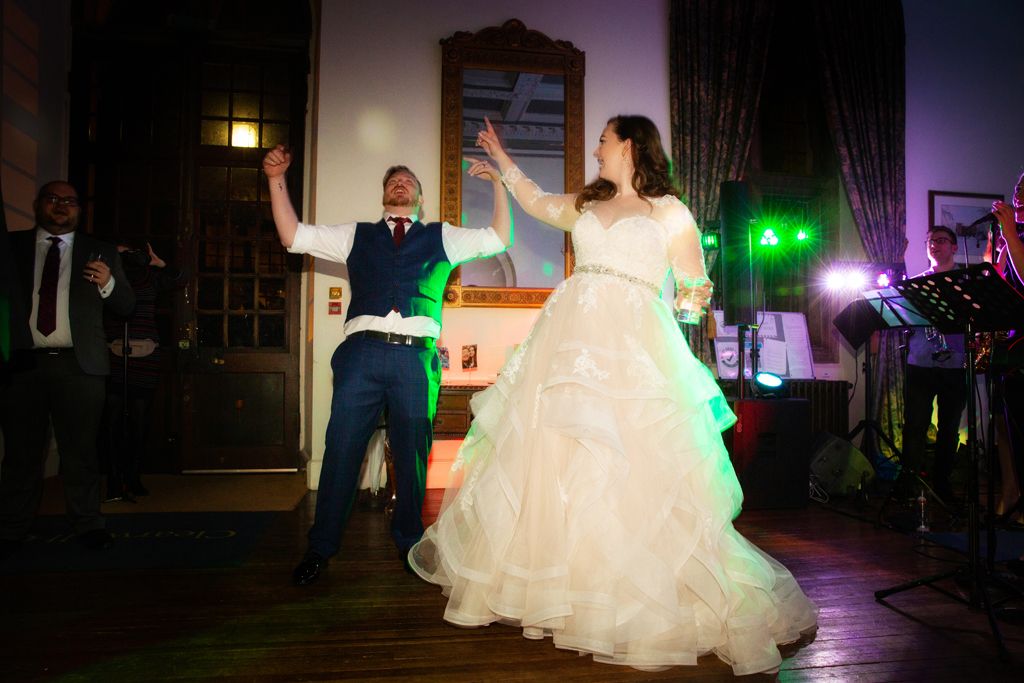 Gloucestershire wedding videographer
Veiled Productions films fun, climate friendly 4K wedding videos across Gloucestershire for modern, guest focused couples. Based near Banbury in Oxfordshire, Rachel from Veiled Productions is centrally located within England to film weddings in Oxfordshire, the Cotswolds and across the south of the country.
GETTING MARRIED AT CLEARWELL CASTLE AND LOOKING FOR A VIDEOGRAPHER? CONTACT ME BELOW, I'D LOVE TO CAPTURE YOUR SPECIAL DAY.
Ready to make the best investment for your wedding? Use the contact page to find out if we're free on your chosen date.