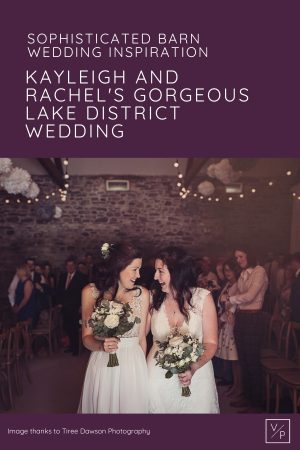 LAKE DISTRICT WEDDING VIDEOGRAPHER VEILED PRODUCTIONS PRESENTS KAYLEIGH AND RACHEL'S WEDDING HIGHLIGHTS FILM AT NEW HOUSE FARM
There were so many reasons why we were very excited to film Kayleigh and Rachel's wedding day. We've known them since we were all Loughborough University students together and they are perfect for each other! Choosing to get married in the Lake District, we knew the day would be stunning. Not only that, Rachel's twin sister, Lisa was their best person so we'd be filming her speech!
GETTING READY IN THE FARMHOUSE
Kayleigh and Rachel chose to get ready together in the farmhouse on site at New House Farm. With their families and bridesmaids with them, they had a lovely morning. We absolutely loved filming the preparations, especially the moments they shared with their niece who was so excited to be with her aunties. These are the moments to be treasured in years to come when their niece is grown up.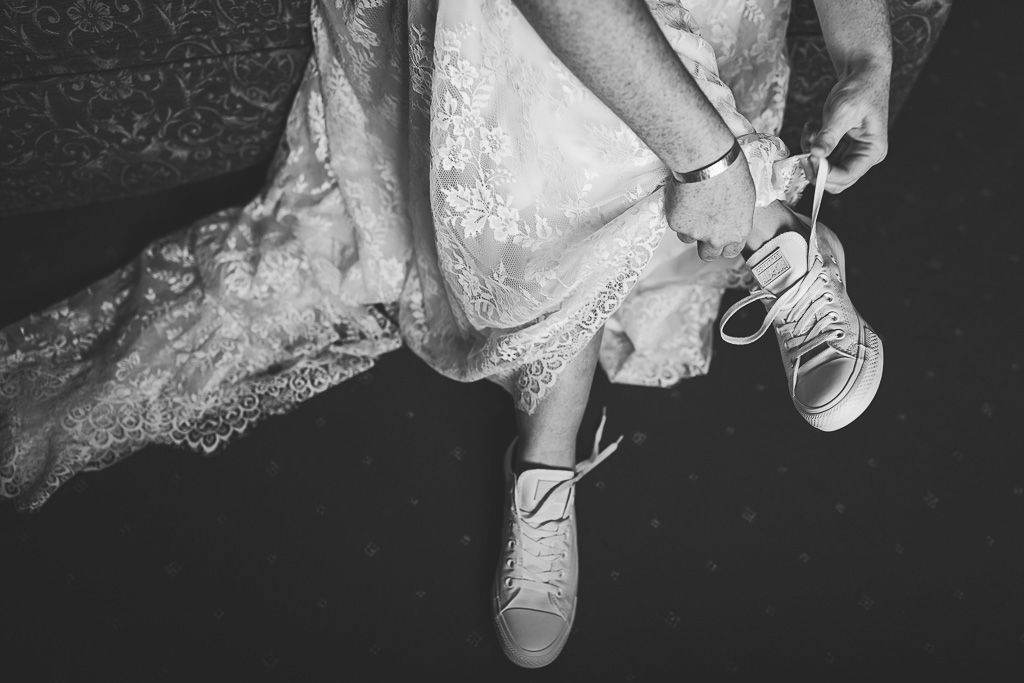 Both brides were looking for subtle, natural looking make up so chose Hair and Makeup by Ely who delivered exactly what they were looking for.
Kayleigh and Rachel kept their dresses a surprise from each other until the ceremony. It was a wonderful moment, particularly as they said they don't often see each other in dresses! The detail on Kayleigh's dress from Bride Apparel Leeds was so beautiful, we loved the delicate lace. Rachel chose an amazing gown from Laura Day Bridal shop in Middlesborough with a gorgeous train. Both dresses suited the brides perfectly!
CIVIL CEREMONY IN THE ROMANTIC HAYLOFT BARN
There are so many memorable moments from the ceremony in Hayloft Barn. Kayleigh grinned from ear to ear looking at Rachel as she met her at the end of the aisle, I couldn't help but grin too! When her sister couldn't stop the happy tears as she read the most beautiful reading about true love, I struggled to hold back the tears too. It really was wonderful to capture.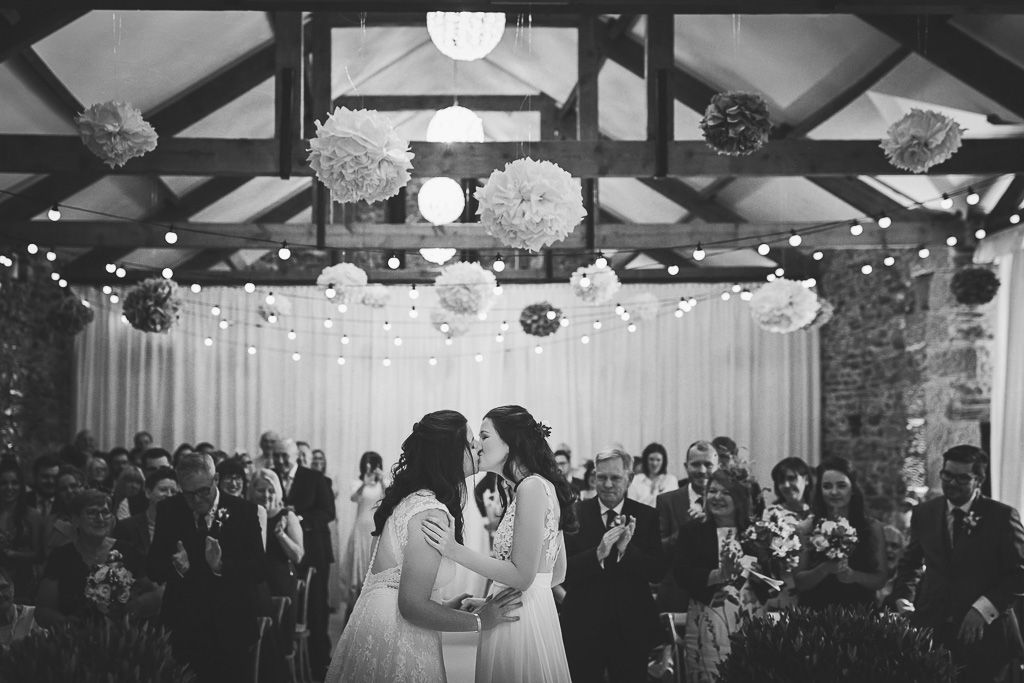 FUN WEDDING RECEPTION AT NEW HOUSE FARM
The newlyweds exited the ceremony with the most gorgeous smiles holding their stunning bouquets by Floral Boutique Cockermouth. The elegance of the bouquets fitted perfectly with their sophisticated barn wedding at New House Farm, we love how well everything was thought out.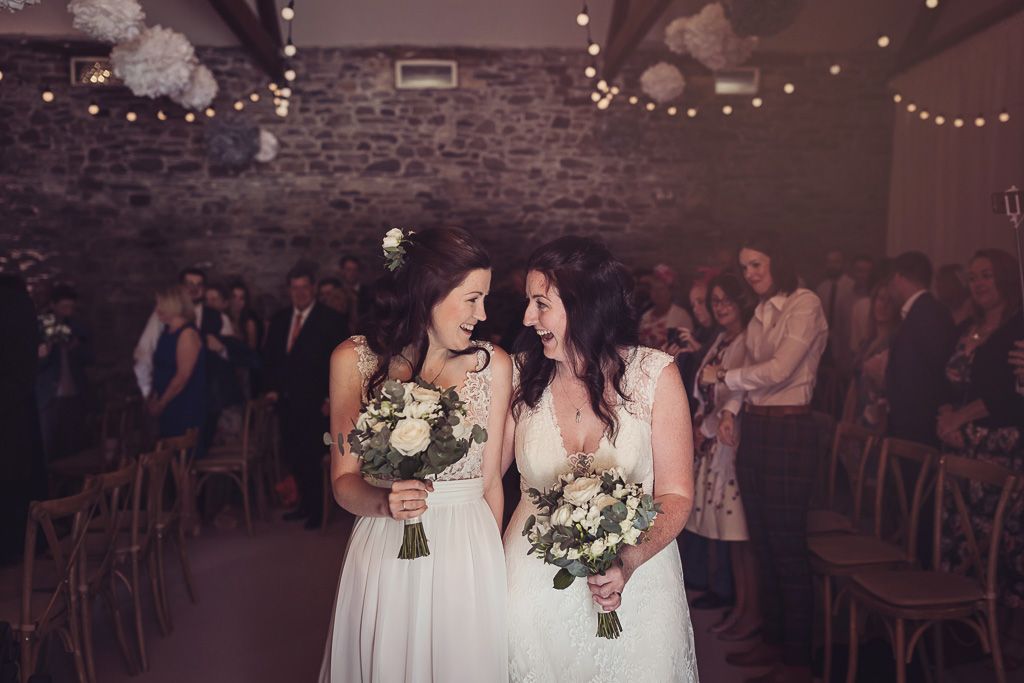 After celebratory drinks and an epic confetti throw, Kayleigh and Rachel headed to the lakeside in perfect transportation – an old Land Rover by Bspoke by Spike recommended by their wedding venue. Tiree took some absolutely beautiful photographs of the new Mrs and Mrs by the lake. The secluded moments Kayleigh and Rachel shared was great to film so their family and friends could watch back after the wedding day.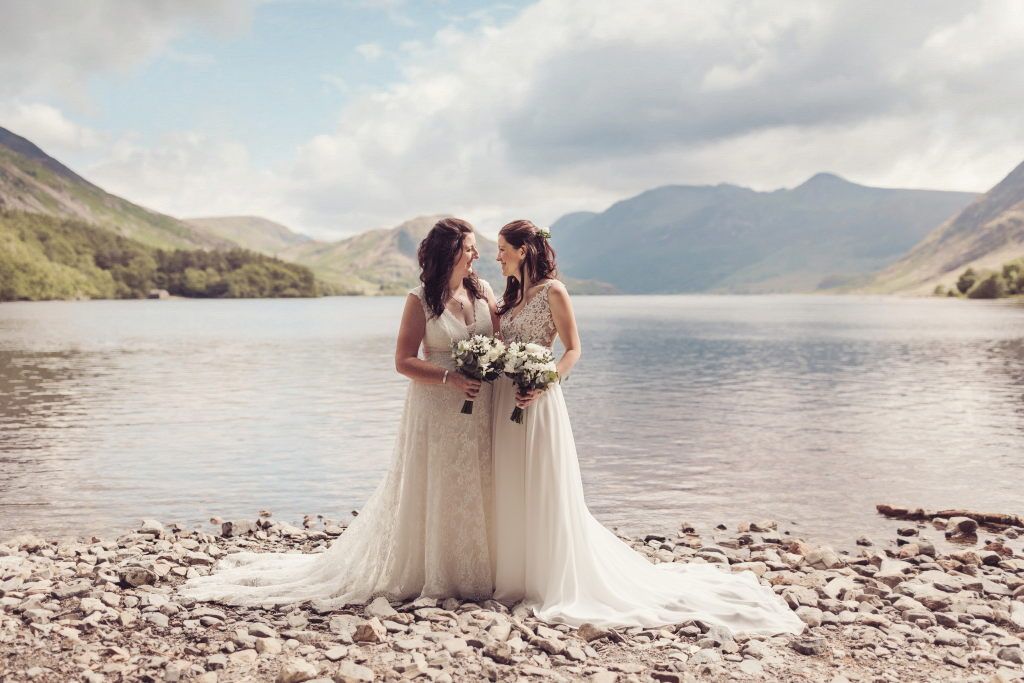 SOPHISTICATED NEW HOUSE FARM WEDDING IN HAYLOFT BARN
As designers themselves, Kayleigh and Rachel created most of the decor in the barn together. They even cast menu holders out of concrete! It looked incredible with pom poms hanging from the ceiling, gorgeous lights and beautiful wedding stationary.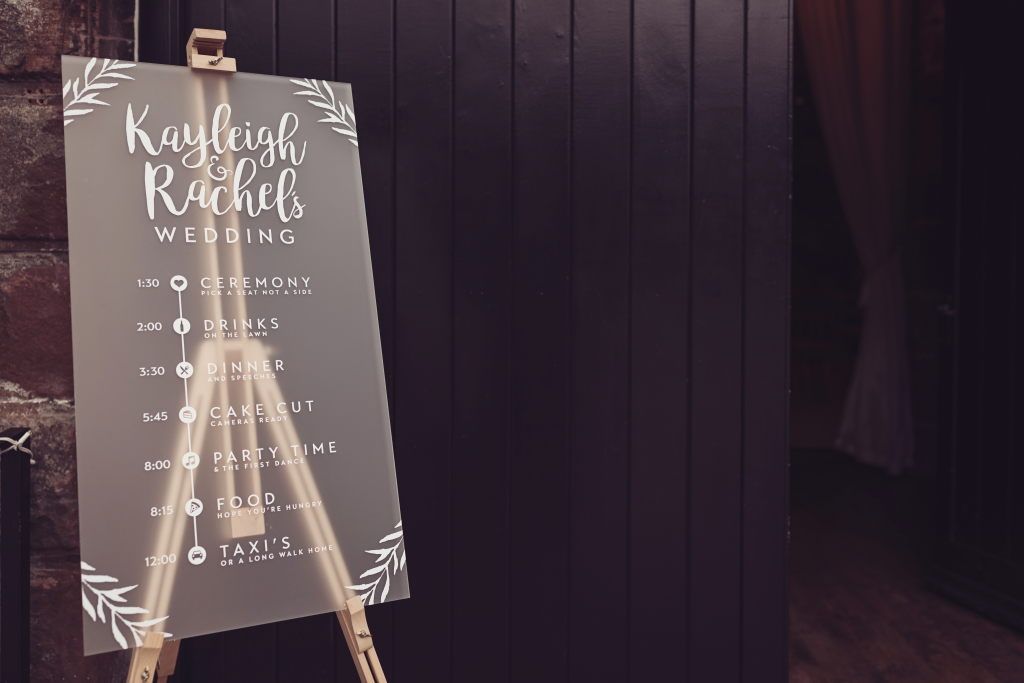 A NOD TO GAY PRIDE WITH A RAINBOW WEDDING CAKE AND RAINBOW BADGE WEDDING FAVOURS
Kayleigh and Rachel wanted to celebrate their love with just a subtle focus on Gay Pride. They asked their incredible caterers Baba Ganoush if they could incorporate rainbow colours into their sophisticated wedding cake and wow did they deliver!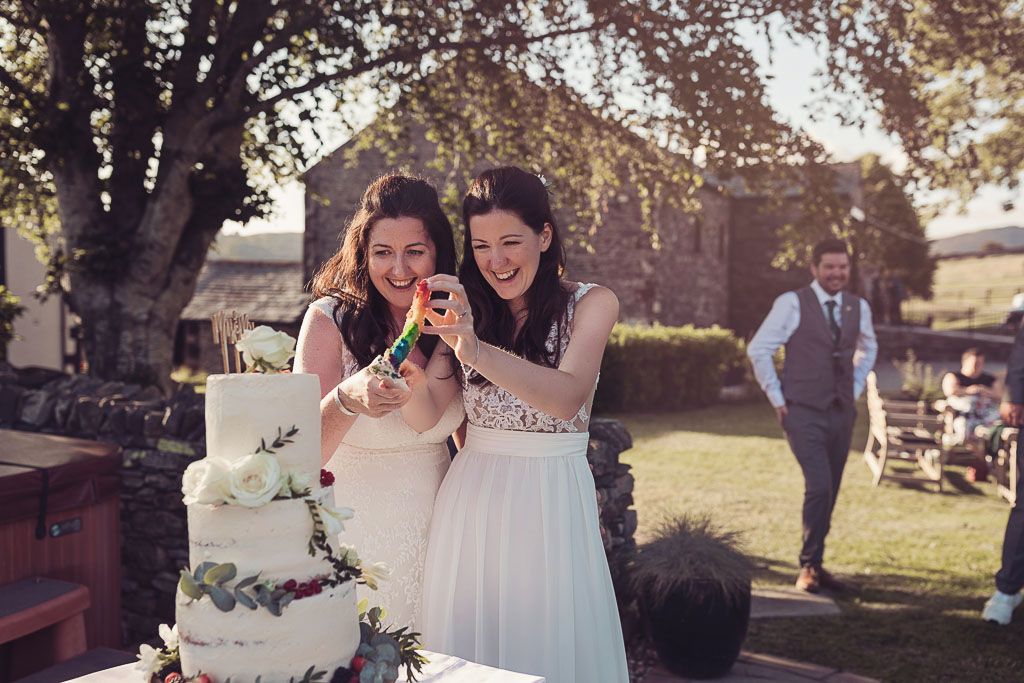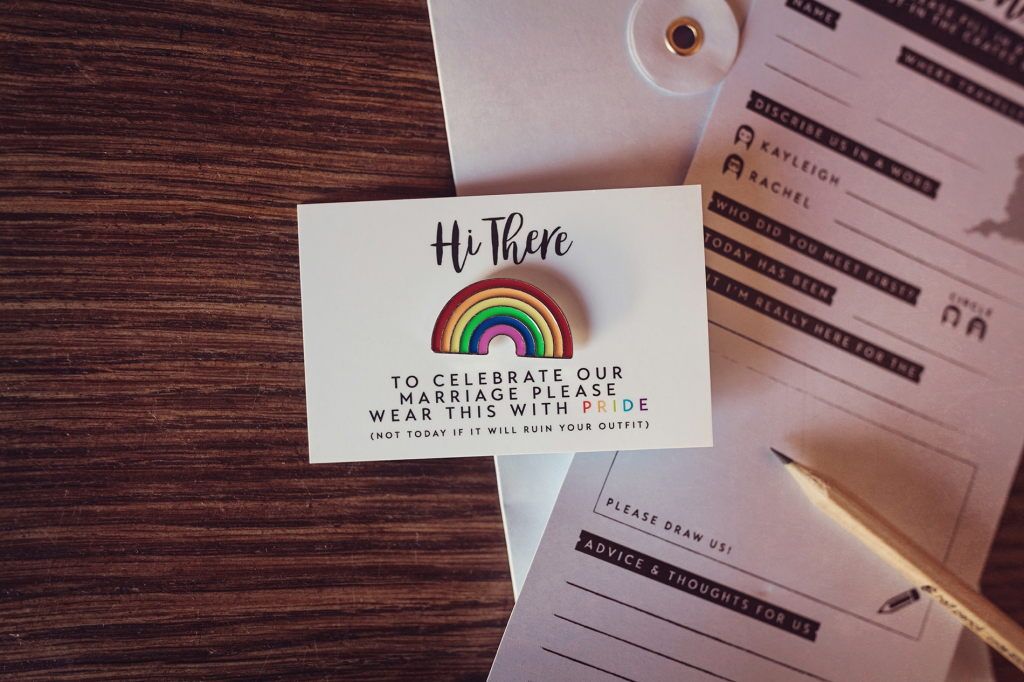 The whole day was so much fun but the most fun has to be the Ceildh dancing with the band Flung Aboot. Filming all the guests trying to keep up with the instructions and having a fabulous time was very entertaining! We always stay for at least an hour after the first dance to capture all the evening entertainment so you can relive all the fun for years to come.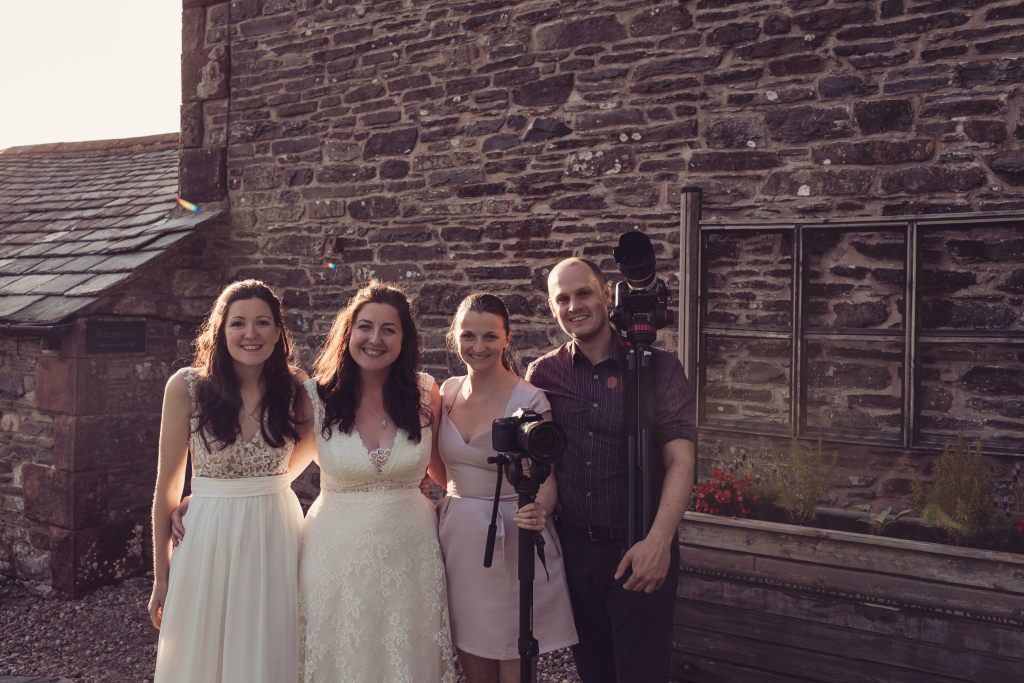 WEDDING PLANNING ADVICE FROM NEWLYWEDS KAYLEIGH AND RACHEL
The first piece of advice we would give to couples is to be super organised! The more you can do this the less stressful everything will seem. We had a week by week calendar of what needed to be done which made it seem more manageable, but try not to stress if things are taking longer than planned. Try and remember that whilst you can try and make every little detail perfect, what really counts is how you feel on the day and actually getting married to the person you love. We had the mindset of trying to do everything we could in the run up, but on the actual day not stressing the small stuff, what will be will be!

We would also say spend the money on the things that matter to you (and not others!), for us the music was really important so we splashed out on the band. Weddings are so expensive so spend it where it counts.

If you can manage it try and make a weekend (or week!) of the wedding like we did. It really takes the pressure off the day being the centre of everything and you can enjoy the run up. For us we brought two families together from either side of the country and we will treasure those memories almost as much as the day itself.
NEW HOUSE FARM BARN WEDDING VIDEO – KAYLEIGH AND RACHEL – A SNEAK PEEK
New for 2019, included in our wedding videography service is a sneak peek film edited within 72 hours of the wedding. Whilst I edit the longer films, couples enjoy a short edited film of the day. It's great for including some natural audio of the speeches and a few favourite clips from the day.
GOOGLE REVIEW FROM BRIDE KAYLEIGH
Myself and my wife Rachel are over the moon with the wedding video created by the team, it captures the day perfectly and watching it is becoming one of our favourite feel good activities! On every re-watch we spot something new and Veiled Productions attention to the little personal details is testament to this.

We were both a little anxious about a videographer being too intrusive, but Rachel and Pete were fantastic and disappeared right into the background on the day, totally making us and the guests feel at ease.

With all our suppliers we also had the worry about them being LGBT friendly, but this was never a concern with Rachel and Pete. They were so open and welcoming it was lovely to just have them there on our special day. Rachel was easy to deal and communicate with and nothing was too much trouble.
GETTING MARRIED AT NEW HOUSE FARM AND LOOKING FOR A VIDEOGRAPHER? CONTACT ME BELOW, I'D LOVE TO CAPTURE YOUR SPECIAL DAY.
Ready to make the best investment for your wedding? Use the contact page to find out if we're free on your chosen date.