A wedding between Christmas and New Year - the ultimate celebration for Leanne and Chris at The Barn at Redcoats! So much to love about this wedding but the chocolate indulgent wedding cake tops the list in my eyes!
THE BARNS AT REDCOATS WEDDING VIDEOGRAPHER VEILED PRODUCTIONS PRESENTS LEANNE AND CHRIS' WEDDING HIGHLIGHTS FILM
GETTING READY IN THE HONEYMOON SUITE AT REDCOATS
Leanne, her bridesmaids and her mum chose to get ready in the beautiful honeymoon suite that's part of the accommodation on offer at Redcoats. Nicki from NWDesign styled Leanne's hair on the morning of the wedding day into one of the most stunning bridal looks I've seen. Hannah from Hannah Rafferty Makeup completed Leanne's bridal look with elegant make up that really suited Leanne. I particularly love the way Hannah styled Leanne's eyes – beautiful!
A STUNNING WEDDING DRESS FROM THE IVORY WARDROBE
Leanne's wedding dress impressed everyone on the day! One of my favourite moments is when Chris sees her for the first time and is clearly wowed by how gorgeous she looks. Leanne chose her dress from The Ivory Wardrobe in Woburn Sands. The bridesmaid dresses were chosen from wed2B and the men suits were from Reiss.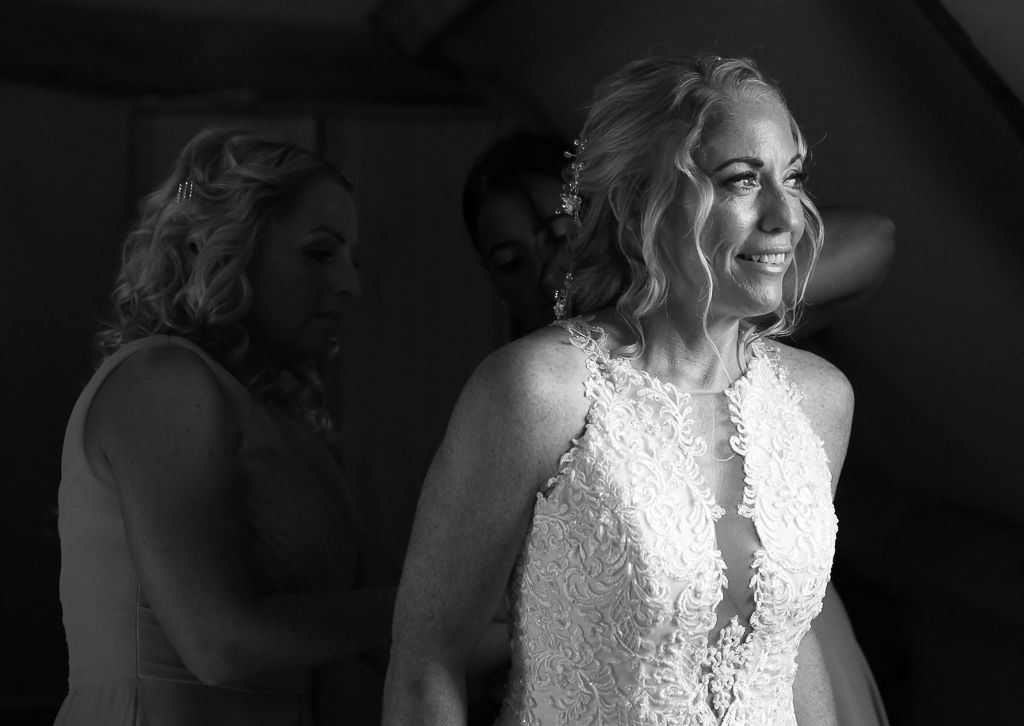 CIVIL WEDDING CEREMONY AT THE BARNS AT REDCOATS
Leanne and Chris chose to have a civil ceremony held within the barn at the venue. This was great as it means more time for them to get ready before the ceremony and chat to their guests afterwards, without having to travel anywhere else.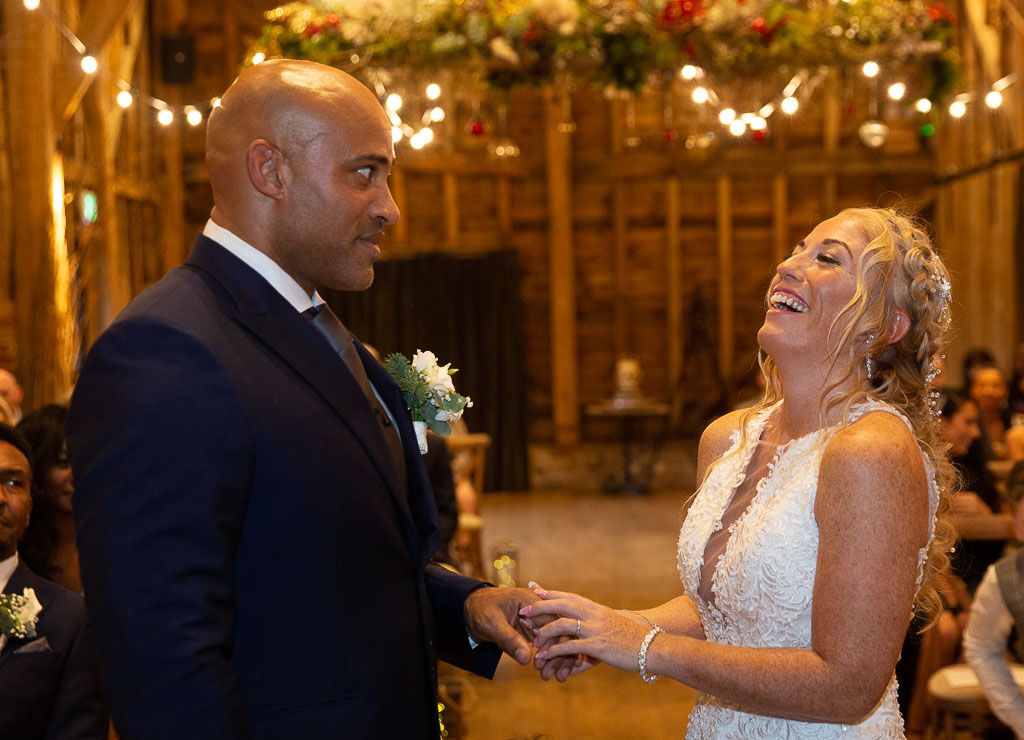 WEDDING RINGS FROM HATTON GARDEN
Chris and Leanne chose their wedding rings from Hatton Garden in London. We love that they chose special rings because the rings are one of the things from the wedding day that will last forever. It's definitely worth spending time finding the right rings that you are confident will last.
FUN WEDDING RECEPTION FILMED BY THE BARNS AT REDCOATS WEDDING VIDEOGRAPHER VEILED PRODUCTIONS
During the speeches, Chris joked that the only thing he helped with during the planning was the cake. As chocoholics ourselves, we thought it was perfect! Created by Love of Cupcakes in Bedford, the indulgent wedding cake definitely caught the attention of the guests. We love that Chris couldn't resist a sneaky bite after the ceremony too!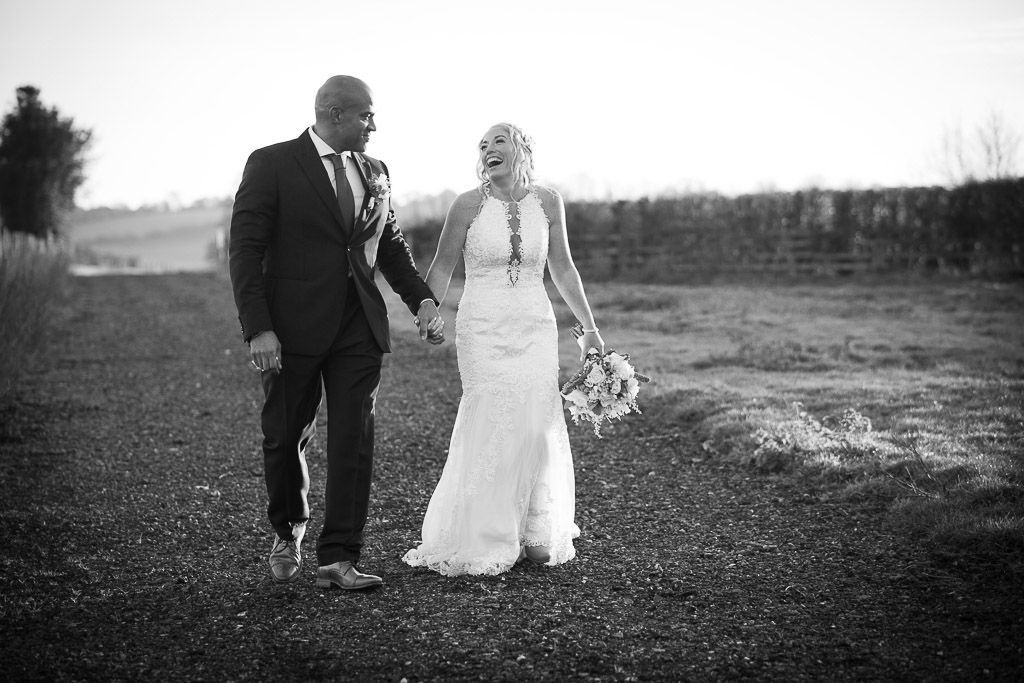 We always stay for at least an hour after the first dance to capture guests dancing and having fun. Leanne and Chris and their guests did not disappoint! The dancefloor was full!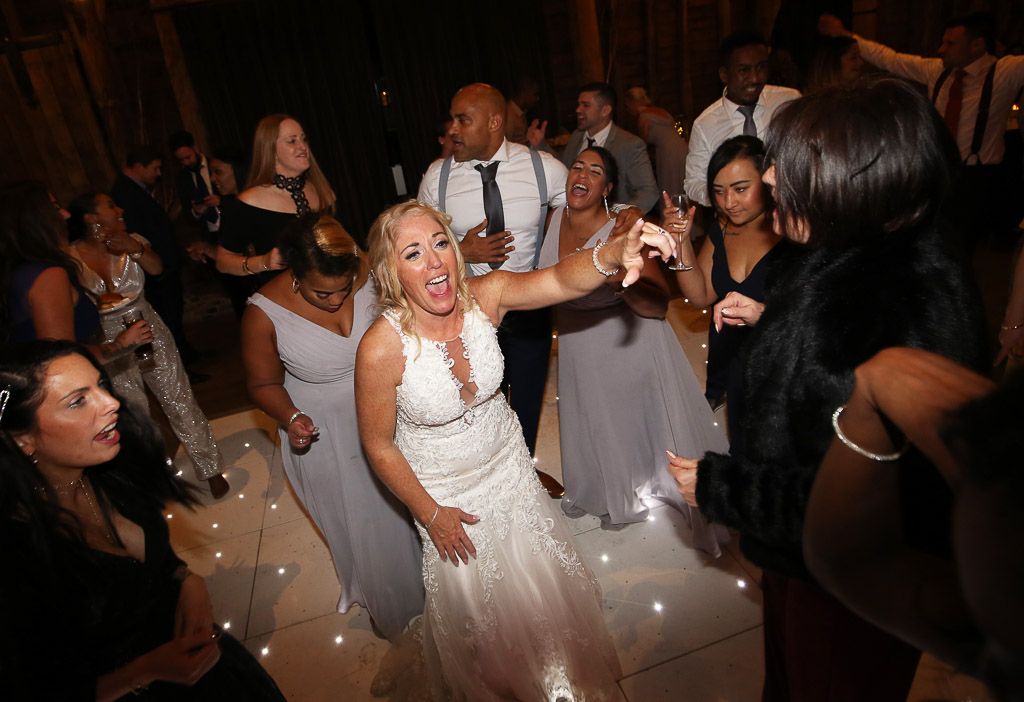 PHOTOBOOTH SUPPLIED BY BOOTH BIRDY
Getting footage of your guests in a photobooth is one of the best things about having a photobooth, in our opinion! The laughter when the timing goes wrong or when the poses are hilarious is priceless when you watch it back.
The team at Booth Birdy were so friendly and they also supplied the dancefloor and DJ.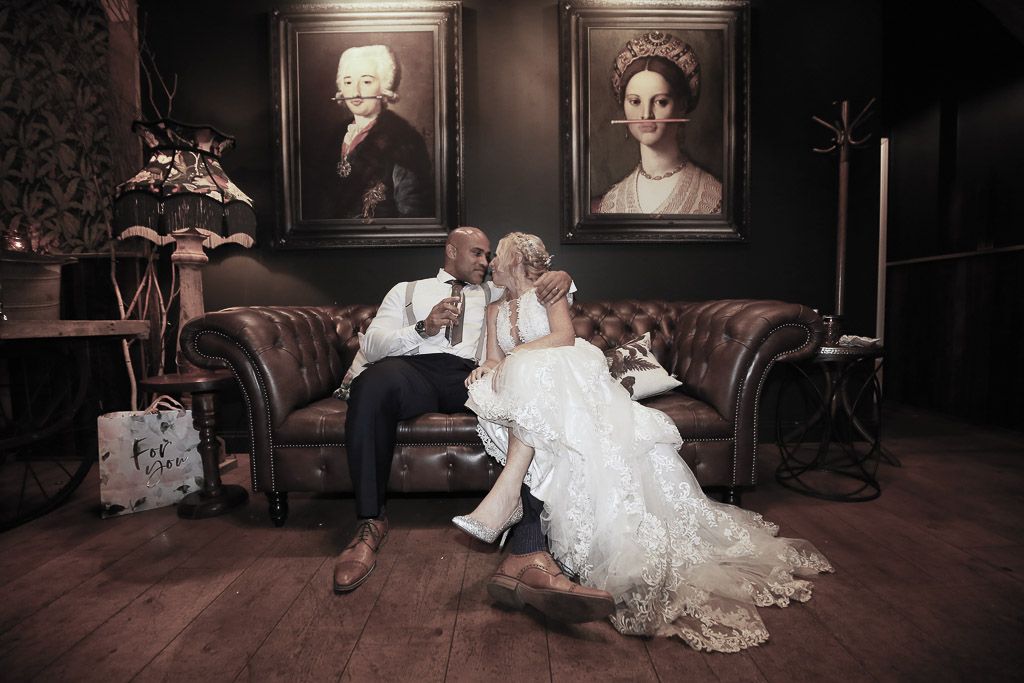 WEDDING ADVICE FROM BRIDE LEANNE
Enjoy the whole process and try not to stress too much. Most important thing to invest in (once you have your dress) is the food/drink followed by a photographer and videographer to capture all the moments from the day. It's goes by in a flash and there is so much that we didn't see or remember that is captured in the videos and photos. Rachel's highlights video is perfect for sharing with family & friends – we've watched it so many times! CHECK THE TERMS AND CONDITIONS CAREFULLY When booking your venue check for hidden extras as what you see on an open day may not be included. Things like charges for clearing up confetti/lighting etc. Make sure you see bar prices and corkage before you sign up so can be fully informed. Check what they can provide like easels/drinks cart/dessert tables etc Also if having the celebrations all in one place make sure you're happy with turn around times at the venue. ASK FRIENDS FOR HELP Unless you're having lots of additional evening guests, avoid mass evening food – it just gets wasted. We had a DIY sweet table that was really popular with the kids. Spend your money on the right things and do things yourselves where it's easy and you are comfortable doing so. Use skills of friends too. Our friend designed our E-invites (saves time, money and easy to track) and also our table plan and greeting sign which we just had printed. If having evening guests invite more than your numbers as quite a few can drop out. Most of all enjoy every minute of your day! It's really special and after months of planning is over so quickly. Don't feel obliged to invite people – only have people you really want there and don't feel guilty. We made a call to only allow kids from immediate family to enable us to have more of our adult friends there – it's your day have it as you please.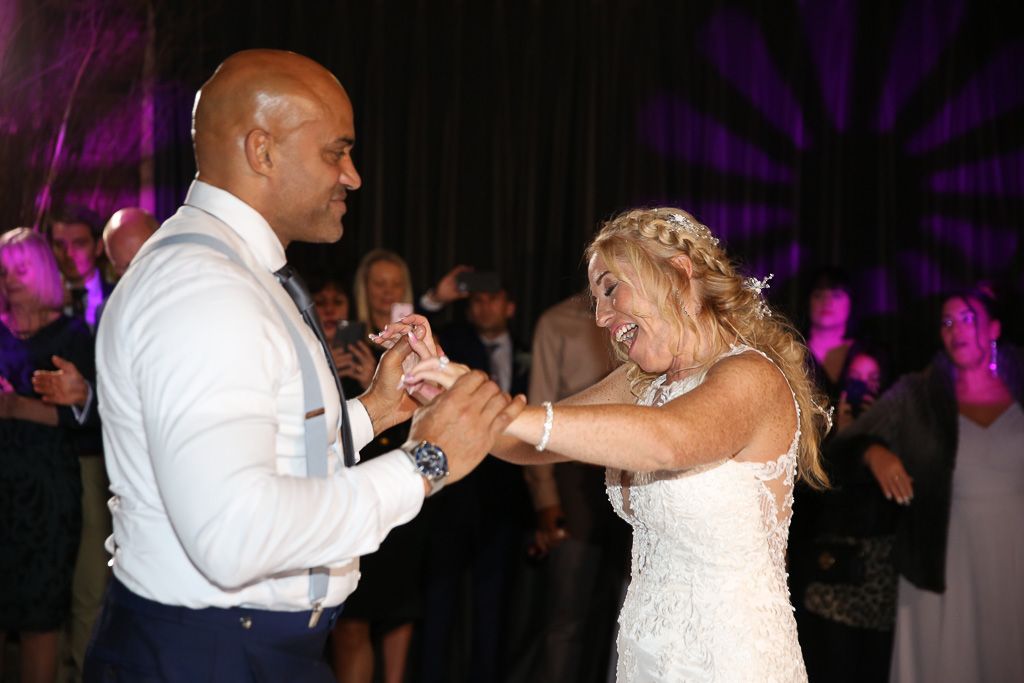 THE BARNS AT REDCOATS WEDDING VIDEO – LEANNE AND CHRIS – A SNEAK PEEK
Edited within 72 hours of the wedding, a sneak peek film to watch and reminisce! Whilst I edit the longer films, couples enjoy a short edited film of the day. It's great for including some natural audio of the speeches and a few favourite clips from the day. Thanks again to Raz from SpotyPhoto.com for helping me film on the day as I was 30 weeks pregnant!
GETTING MARRIED AT THE BARNS AT REDCOATS AND LOOKING FOR A VIDEOGRAPHER? CONTACT ME BELOW, I'D LOVE TO CAPTURE YOUR SPECIAL DAY.
By clicking submit you agree to us contacting you about your wedding day. For full details about what we do with your data please see our privacy policy.
Ready to make the best investment for your wedding? Use the contact page to find out if we're free on your chosen date.