Rebecca and Mark's wedding day was full of love and a perfect balance of fun, gorgeous details and wedding day traditions. Eynsham Hall is an incredible backdrop for a wedding in Oxfordshire with stunning gardens and beautiful rooms.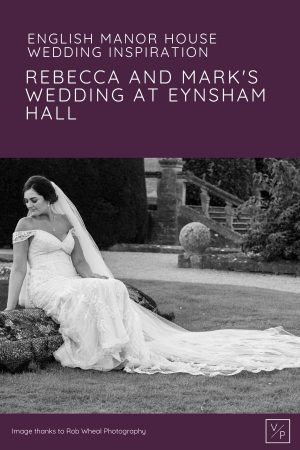 Comments from the happy couple
We received the usb this morning and have just watched it. Thank you so much it's so beautiful we both cried many times throughout! The way you edited all the footage is brilliant, we really enjoyed watching it all and can't wait to show it to our families.
EYNSHAM HALL WEDDING VIDEOGRAPHER VEILED PRODUCTIONS PRESENTS REBECCA AND MARK'S WEDDING HIGHLIGHTS FILM
PREPARATIONS AT EYNSHAM HALL
Rebecca, her bridesmaids and close family got ready at Eynsham Hall which was perfect because the room was so light and airy. Having a large room to get ready in is great because we can capture moments without feeling intrusive or that we are getting in the way.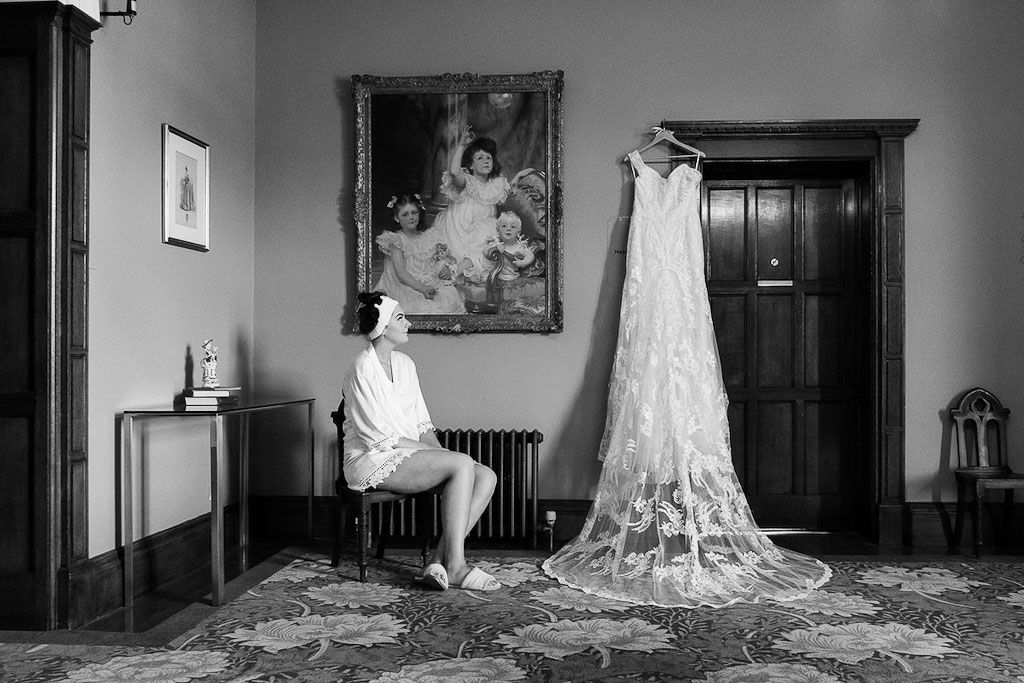 Rebecca chose her Oleg Cassini wedding dress from David's Bridal, Watford. The lace veil really completed her bridal look and made for some gorgeous photographs. We love this shot taken by Rebecca and Mark's chosen photographer Rob Wheal based near Thame.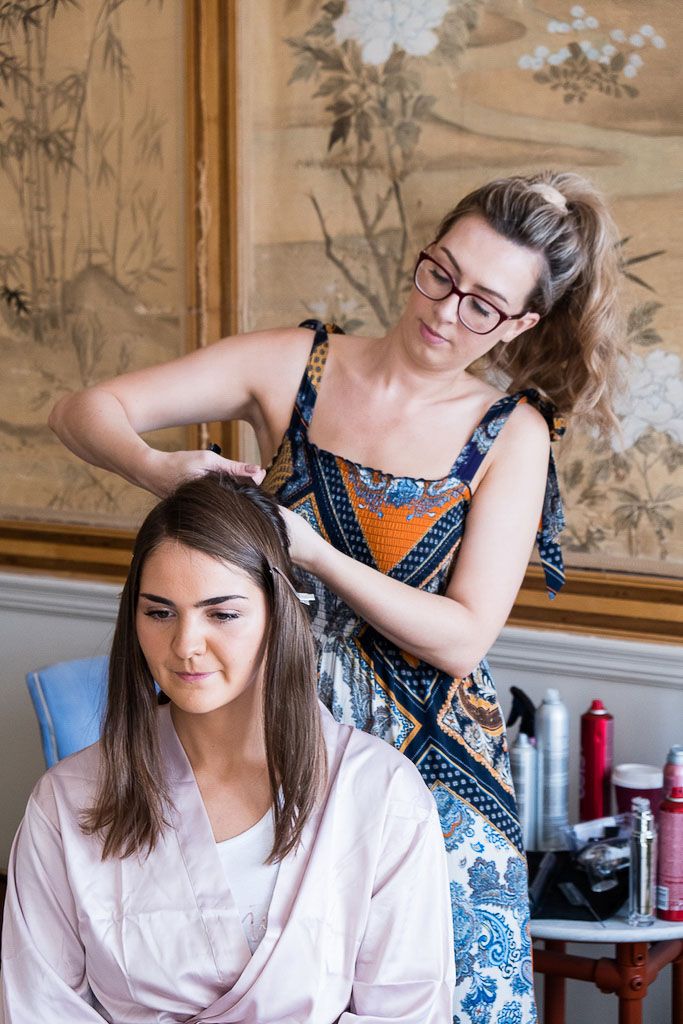 WEDDING CEREMONY AT ST PETER'S CHURCH IN CASSINGTON
Rebecca and Mark chose to get married at St Peter's church because it means a lot to them. The church is Rebecca's Grandma's local church who she is very close with. We love that they wanted their ceremony to be personal and meaningful to them.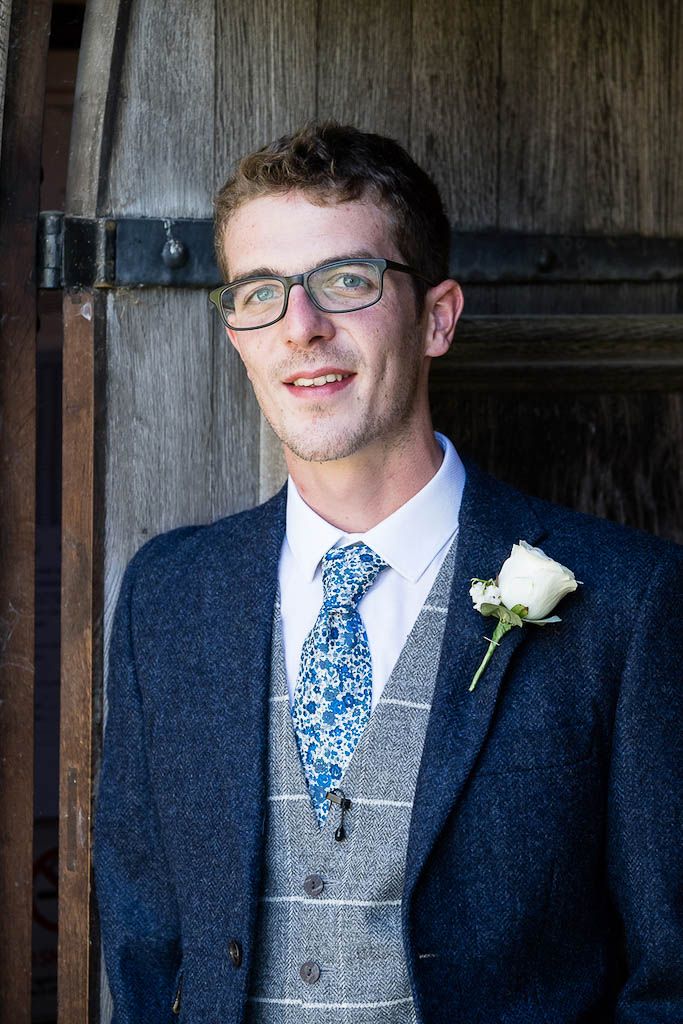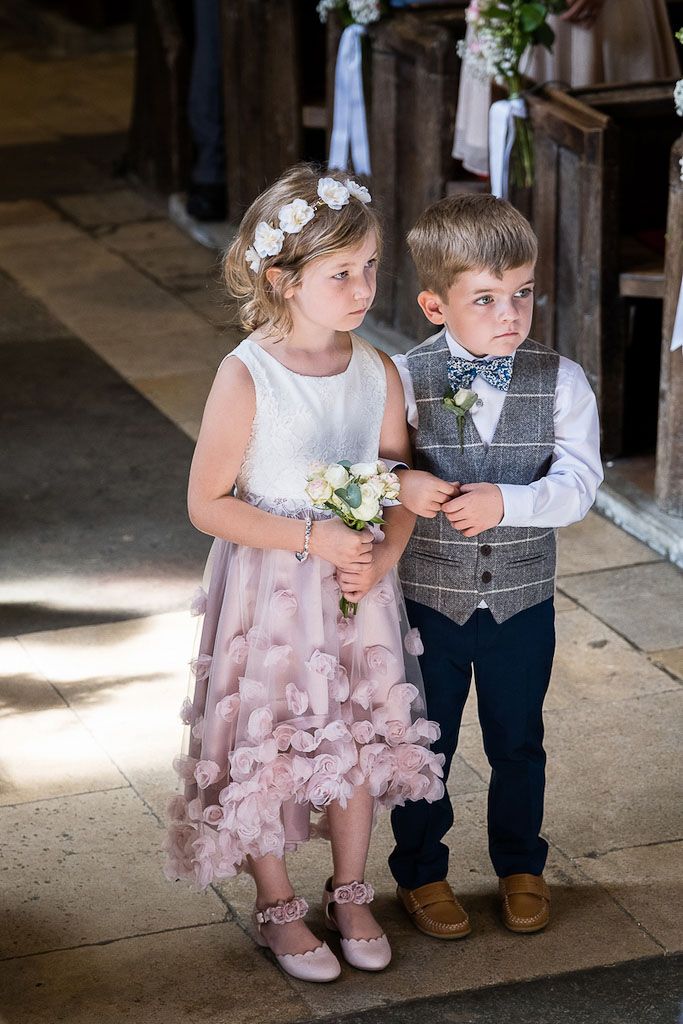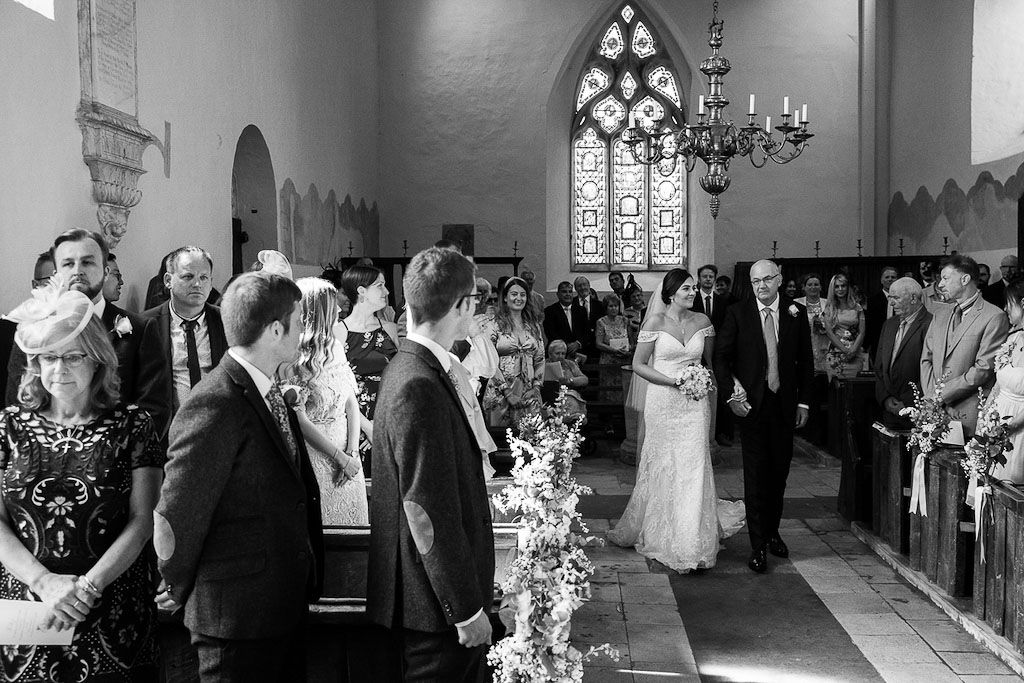 Rebecca and Mark chose their wedding rings from Samara James based in London. The exchange of rings is always such a special moment because it represents never ending love.
WEDDING FLOWERS BY JOANNA CARTER
The gorgeous bouquets and buttonholes were made by Joanna Carter Flowers based in Wallingford. One of my favourite moments of a wedding is when the flowers are hand delivered to the couple as it means it's nearly time for the ceremony!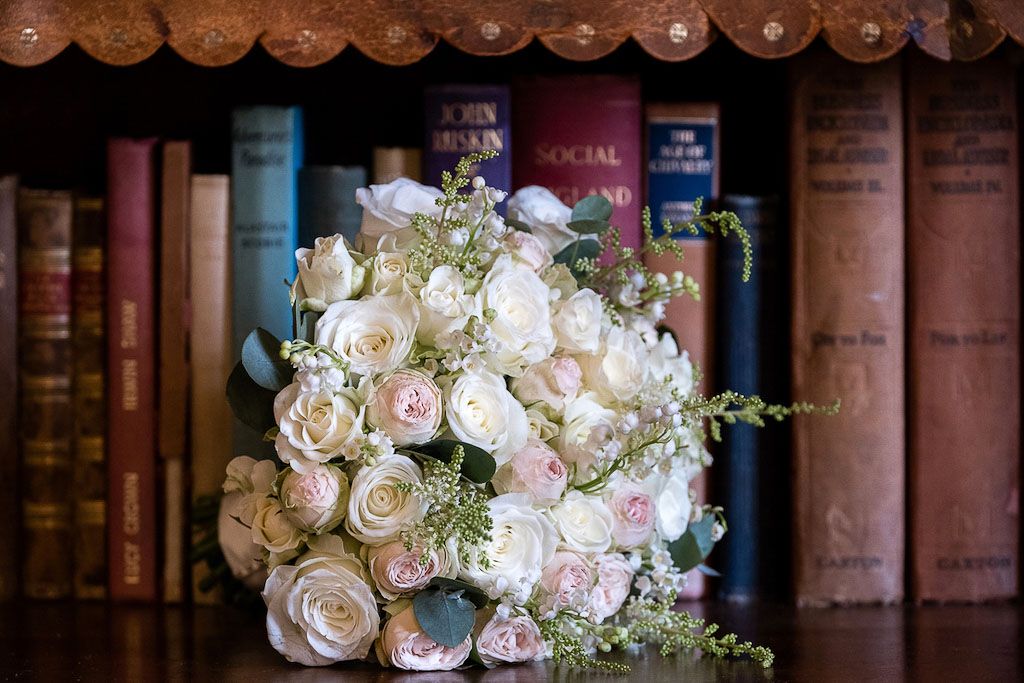 WEDDING RECEPTION AT EYNSHAM HALL
On arrival, guests enjoyed welcome drinks in the beautiful gardens. Rebecca and Mark spent time chatting with guests before formal photographs began. I always film the reception discreetly capturing natural laughter, guests hugging the newlyweds as well as footage of the formal photographs.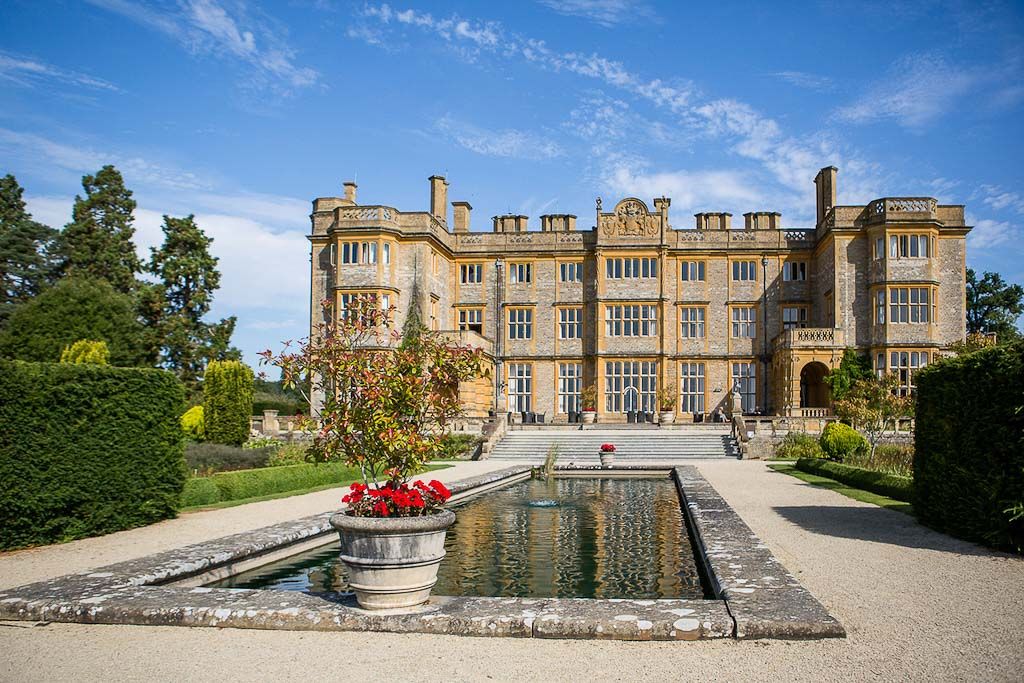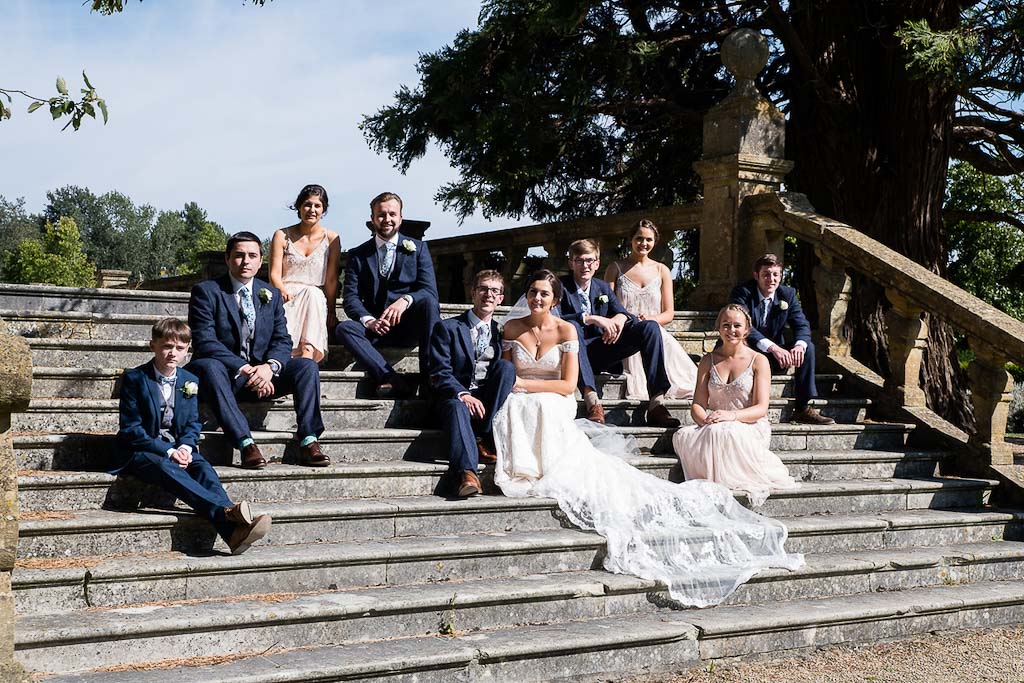 Rebecca and Mark chose their bridesmaids dresses from Silk Fred and hired the mens suits from the Cotswold Taylor. We love this photo Rob took on the day.
Photographs thanks to Rob Wheal Photography
WEDDING CAKE BY CAKES BY KIT
Continuing their elegant wedding theme, Rebecca and Mark's wedding cake by Cakes by Kit was iced simply and decorated with fresh flowers. Fresh flowers are very effective and more affordable than sugared flowers.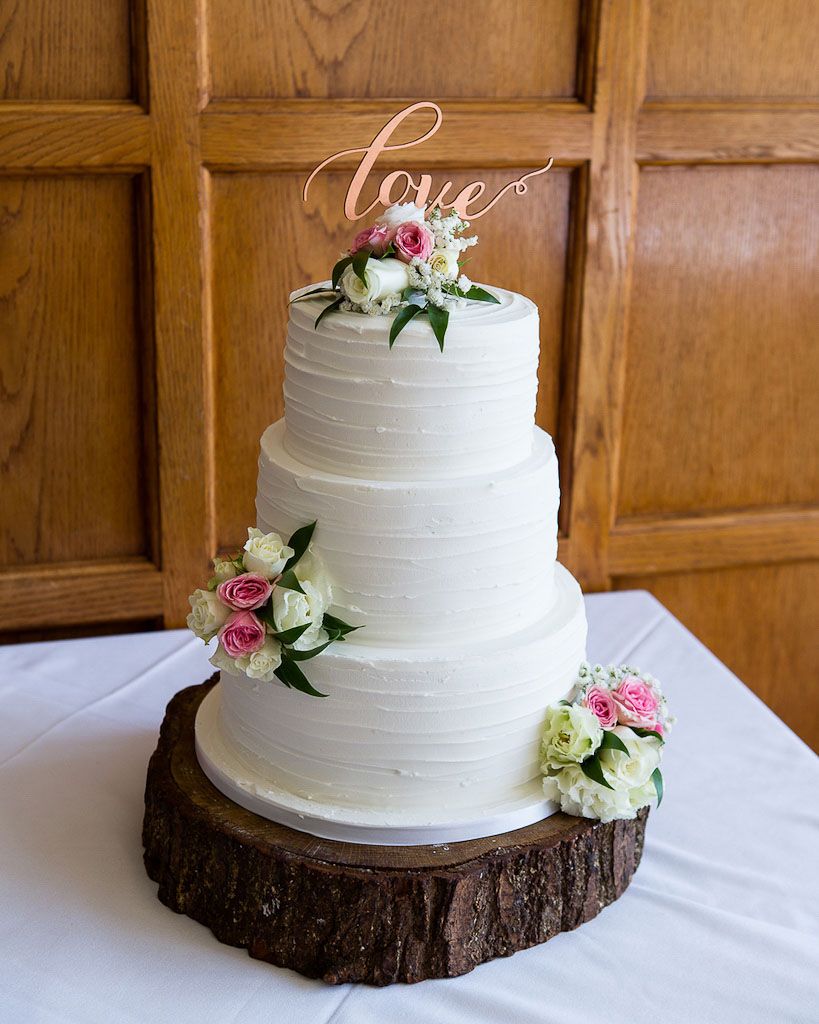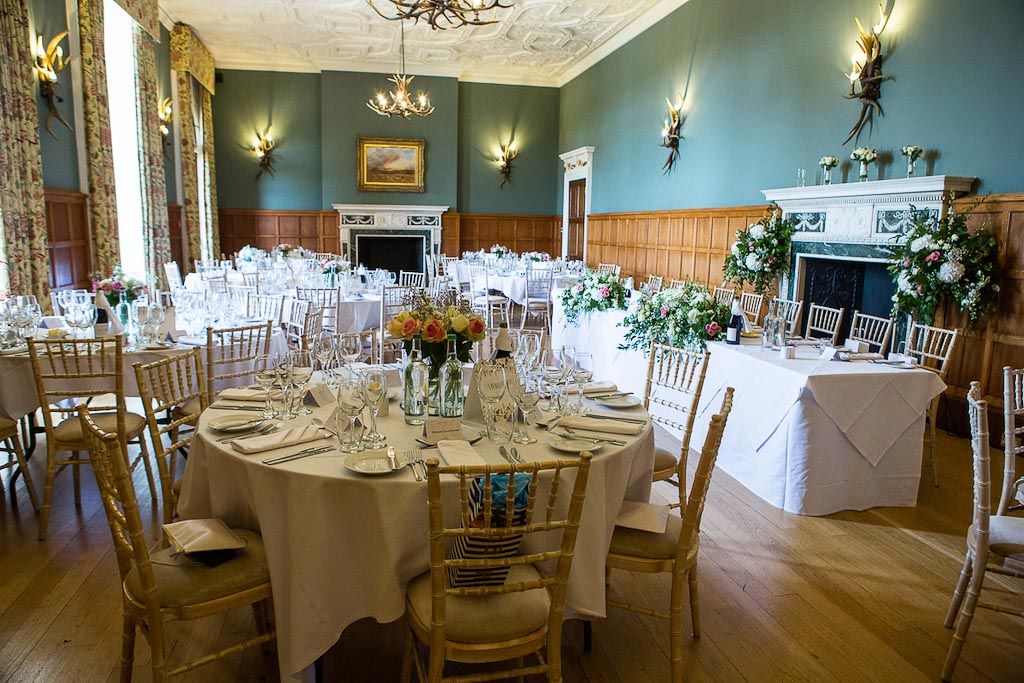 Rebecca wanted to add some of her own creativity into the look of her wedding reception so, with the help of family and friends, created the centrepieces herself. All the stationary and details they had chosen really added to the elegant look as well.
Order of service: AliceBlue Fox at EtsyTable plan, menu and table names: InkiPinkiWeddings at EtsyWedding welcome sign: TheWeDoWorkshop at Etsy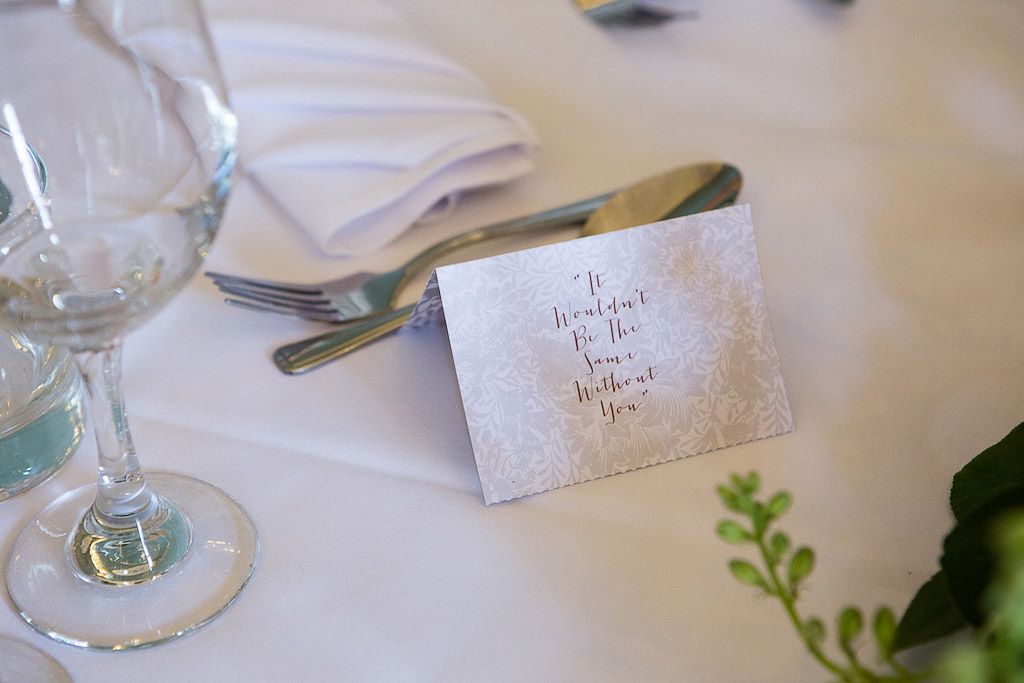 EVENING RECEPTION
After the emotional and entertaining speeches, guests were entertained by Choice DJs. Rebecca and Mark kicked off the dancing with a gorgeous first dance where their son joined them – a very memorable moment. They surprised their guests by dedicating their second dance to Rebecca's Auntie and Uncle who were celebrating their wedding anniversary that day.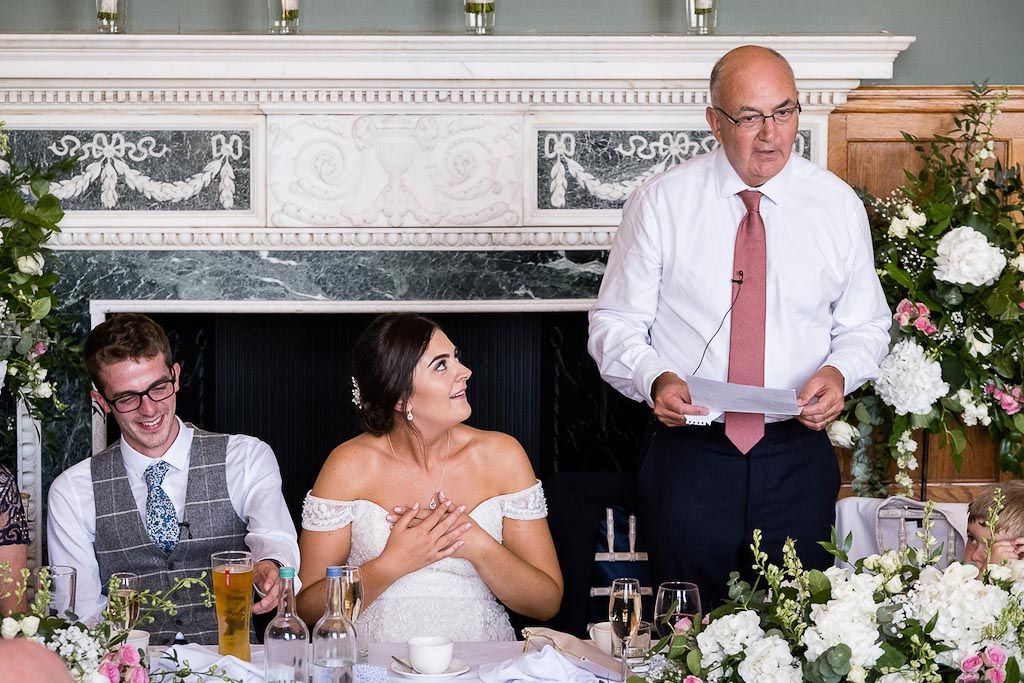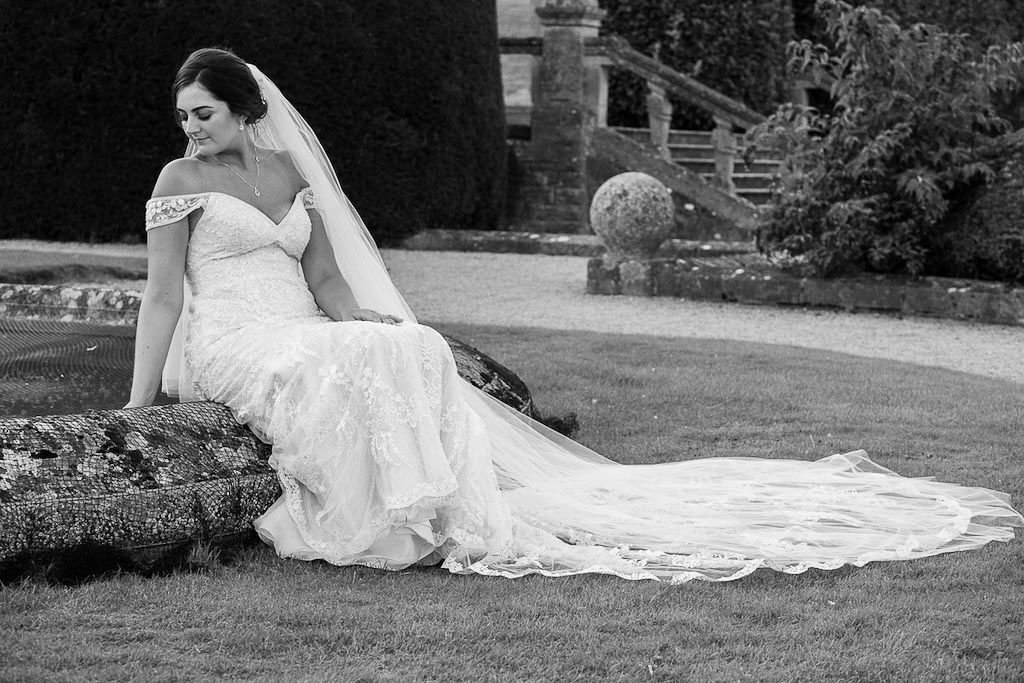 WEDDING ADVICE FROM BRIDE REBECCA
I would say to delegate tasks amongst your wedding party / willing family members so that you are essentially coordinating everything. Don't put pressure on yourself to do it all on your own. Break down your to do list into separate tasks and ask people to do little jobs for you. This way your list seems much smaller and easier to manage. When it comes to picking a photographer or a wedding cake for example take your time in deciding. Also, don't be afraid to say no if you don't feel they will be right for your wedding. On your wedding morning allow plenty of time to get ready and factor in for people unexpectedly coming in to see you to wish you luck etc, things will take longer than expected. On the day just enjoy yourself, and your bridesmaids or friends can take care of any last minute changes etc. If anything does go wrong or happen unexpectedly it will most likely make the day more memorable! The fire alarm went off during my wedding breakfast and guests had to evacuate!
EYNSHAM HALL WEDDING VIDEO – REBECCA AND MARK – A SNEAK PEEK
Edited within 72 hours of the wedding a short snippet of the day! Whilst I edit the longer films, couples enjoy a short edited film of the day. It's great for including some natural audio of the speeches and a few favourite clips from the day.
GOOGLE REVIEW FROM BRIDE REBECCA
Rachel videoed our wedding day and it was the best decision we made throughout all of the wedding planning. She blended in so well throughout the day and was not obtrusive in any way. Everyone commented on how nice she was and some people even thought she was someone we already knew and not someone we had hired for the day. The quality of Rachel's video's and editing is fantastic and we could not be happier with our wedding video's. In particular the highlights video is really great to share with people as it is a glimpse into all parts of the day. We highly recommend having your wedding day filmed, as it goes by in a flash it is so lovely to be able to watch it back afterwards and remember some of the things you may not have noticed or had forgotten about. We also highly recommend Rachel as the perfect videographer for your day.
Oxfordshire wedding videographer
Veiled Productions films fun, climate friendly 4K wedding videos across Oxfordshire for modern, guest focused couples. Based near Banbury, Rachel from Veiled Productions is centrally located within England to film weddings in Oxfordshire, Northamptonshire, the Cotswolds and the Midlands.
GETTING MARRIED AT EYNSHAM HALL AND LOOKING FOR A VIDEOGRAPHER? CONTACT ME BELOW, I'D LOVE TO CAPTURE YOUR SPECIAL DAY.
Ready to make the best investment for your wedding? Use the contact page to find out if we're free on your chosen date.