Kelly and Finn had a brilliant video gaming themed wedding at Wasing Park in Berkshire in July 2019. An incredible 4 tier gaming themed wedding cake and musical ring box refercing their favourite game really captured their personalities. We last visited this gorgeous barn venue for Tarryn and Lee's amazing wedding in 2017 and were so excited to return!  
Wasing Park allow access to their beautiful honeymoon suite from midday on the day of your wedding. Kelly had her makeup done by Make Up By Zoe and her hair was styled by a friend. The most amazing thing about the honeymoon suite is the size of the bed! Wasing Park believe it to be the biggest bed in Berkshire!
Accommodation at Wasing Park
Wasing Park provides on-site accommodation for the wedding couple and up to 64 of their guests. The Stables Lodge offers 26 luxurious en-suite bedrooms, while the Honeymoon Suite provides a lavish retreat for the newlyweds.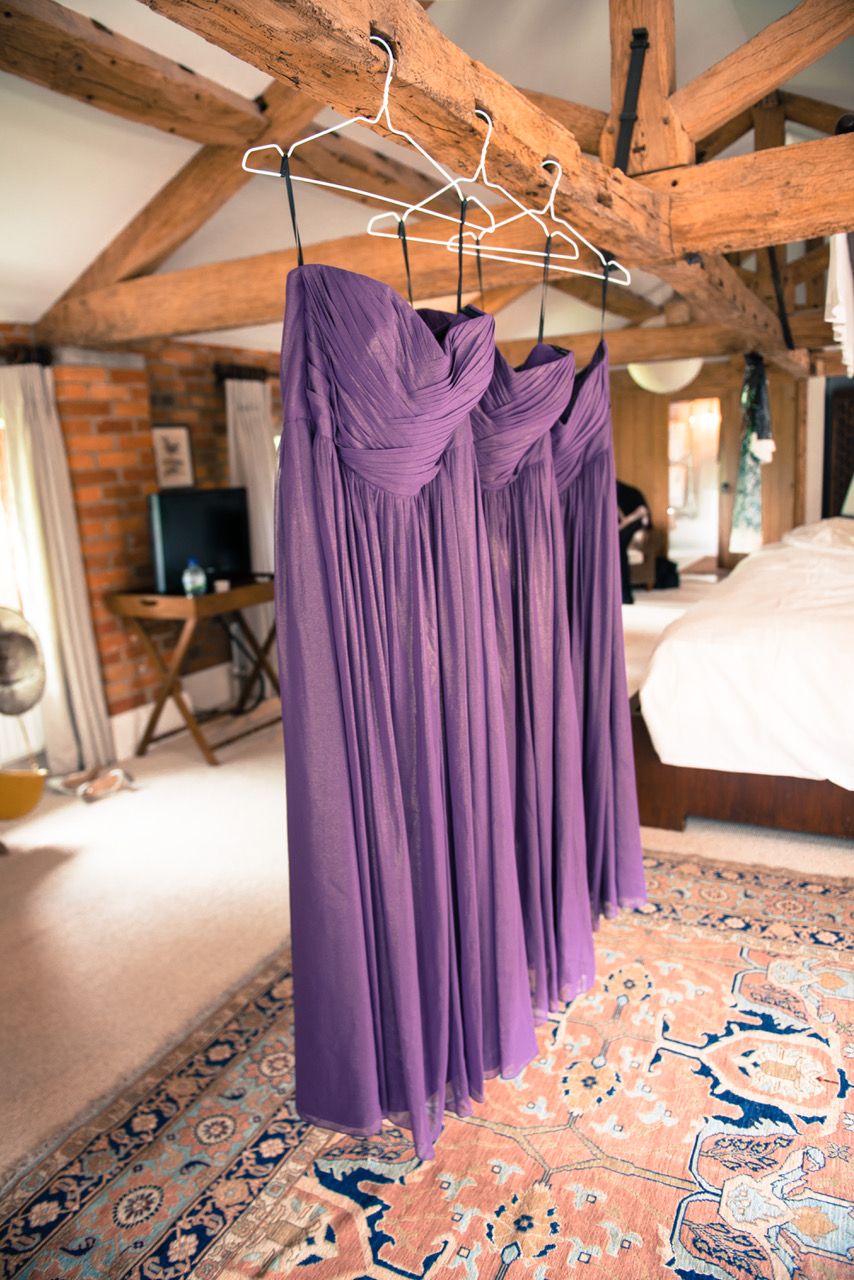 Kelly chose her bridesmaids dresses and her stunning wedding dress from Sophie Grace Bridal. They all looked absolutely beautiful and the incredible flowers really complimented the dresses. Kelly chose faux silk flowers made by her extremely talented friend! I think her friend should start a business because they looked so real!
Civil wedding ceremony in The Garden Room at Wasing Park
I always love filming a wedding ceremony because there is always such genuine, real emotion. Kelly and Finn's civil wedding ceremony in The Garden Room at Wasing Park was wonderful. Their daughter was so proud to be flower girl and their son was very happy to have cuddles with Daddy at the bottom of the aisle. My favourite moment was when Finn surprised Kelly with a musical ring box, a reference from their favourite game.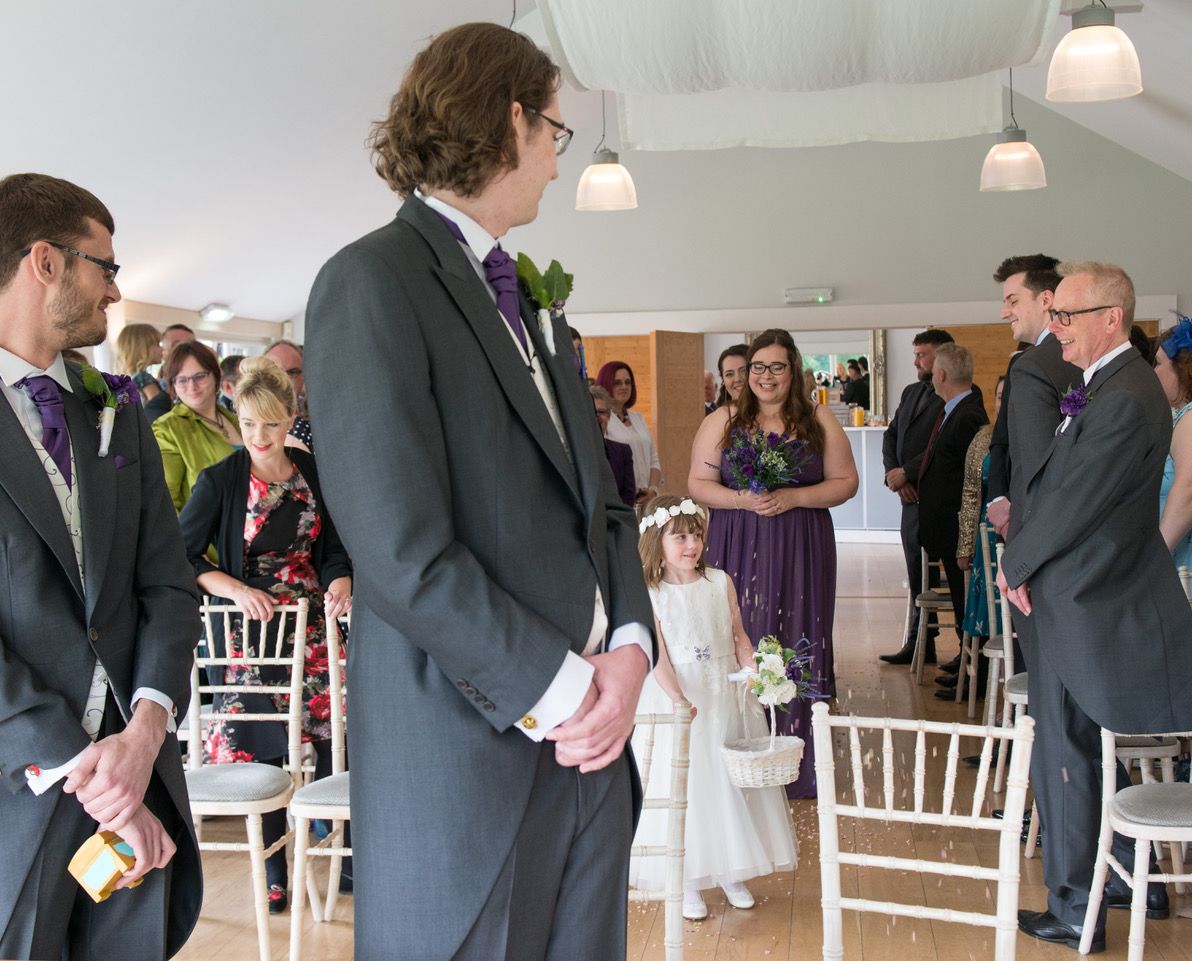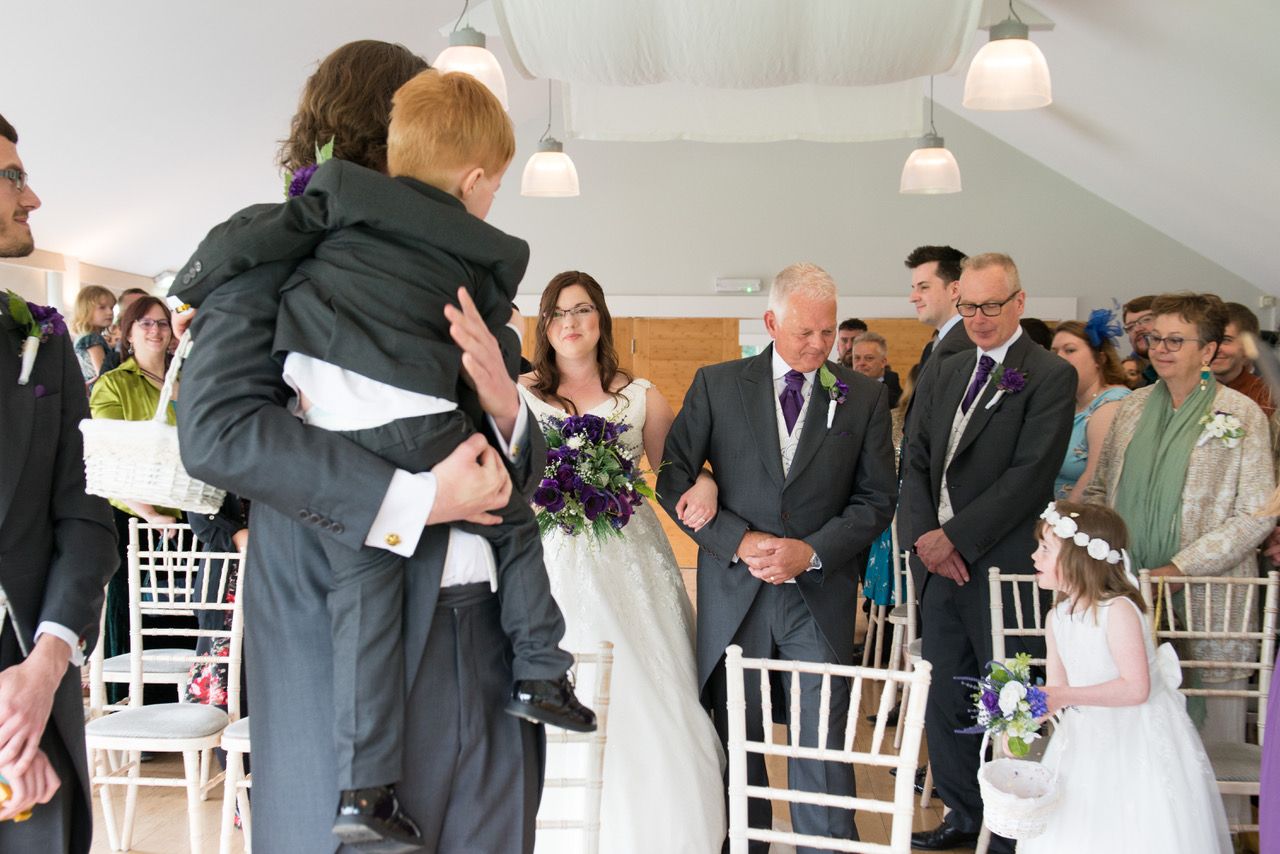 The mens suits were supplied by Black Tie and the purple ties really complimented the bridesmaid dresses and the flowers. I particularly loved the small suit for Kelly and Finn's son!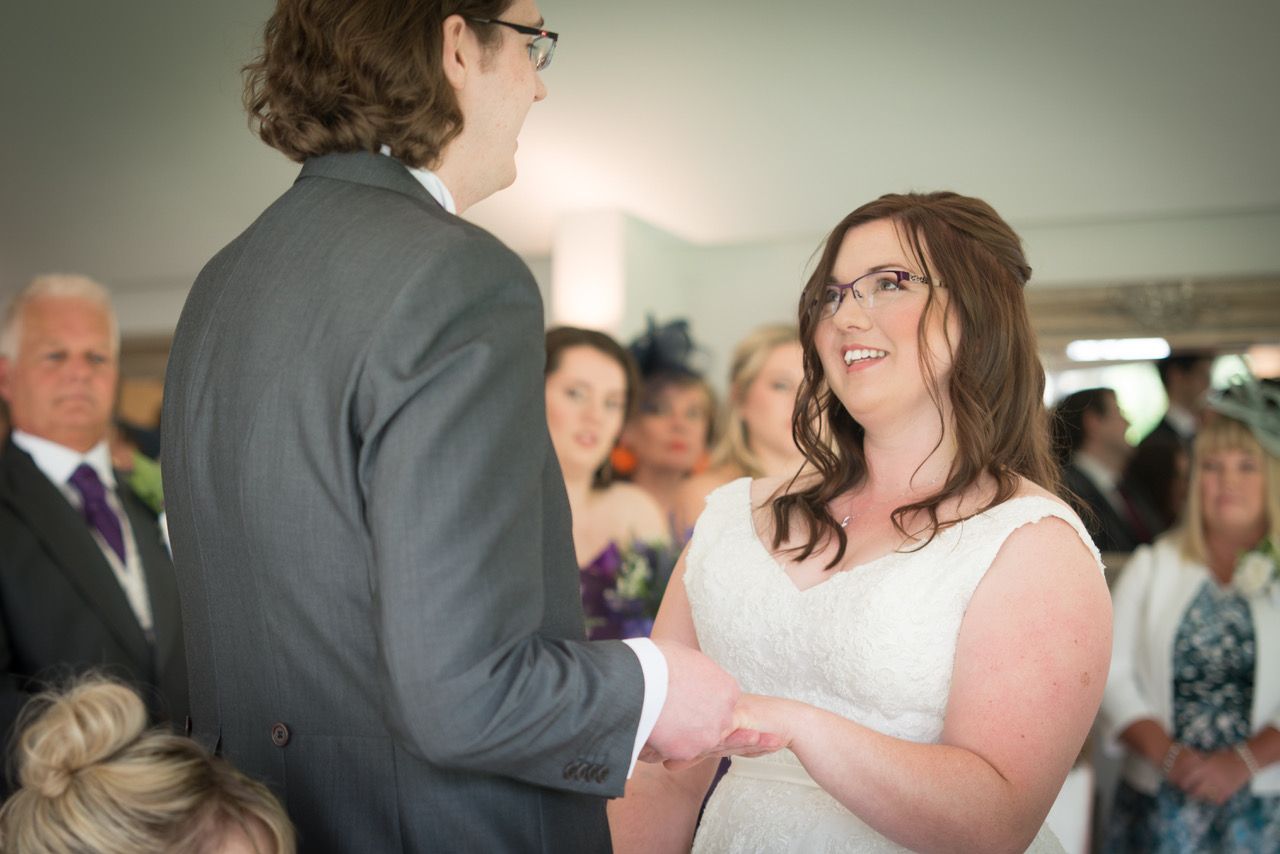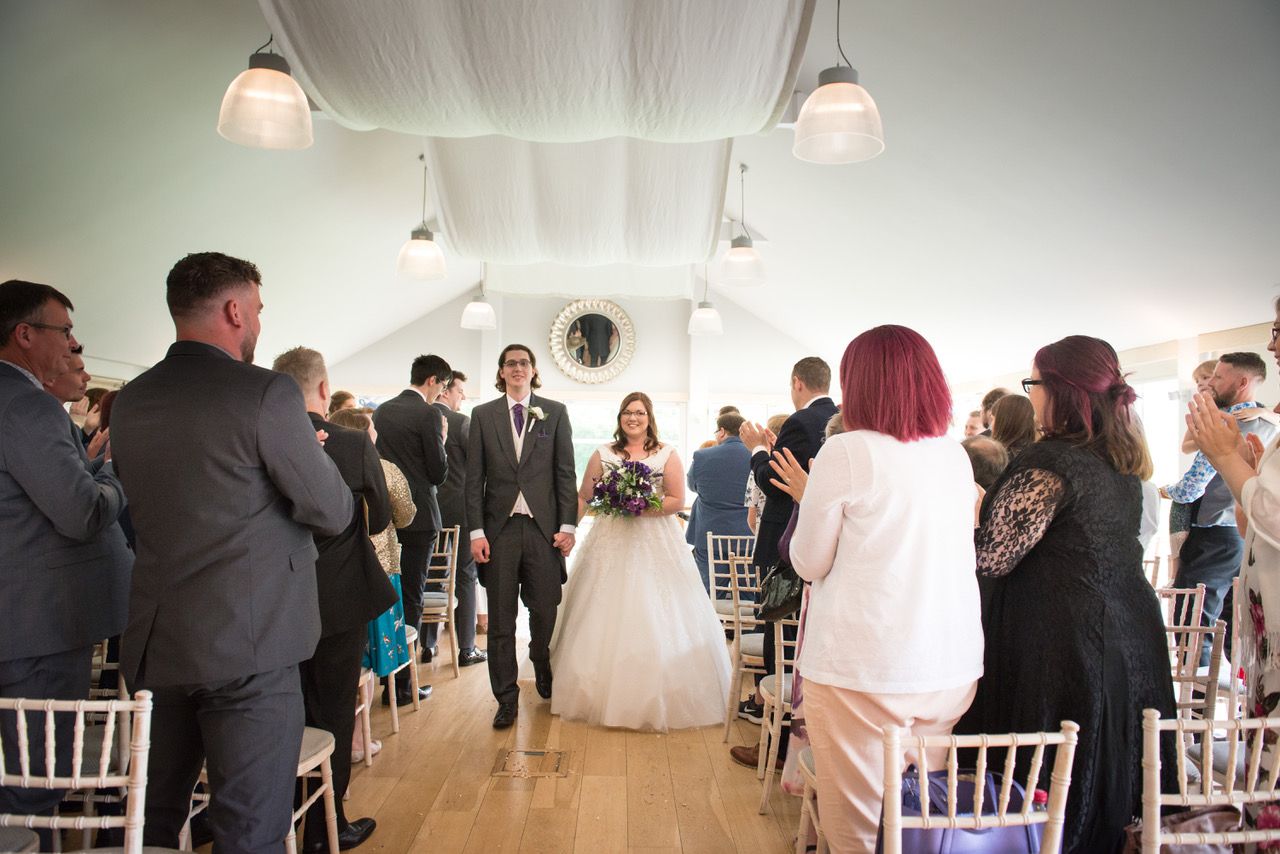 The great thing about The Garden Room are the big windows which make is lovely and light and bright. This is perfect for photographers and videographers where natural light makes for very flattering photos and footage.
Newlywed photos at Wasing Park
Wasing Park estate is situated in Aldermaston, Berkshire and has some stunning locations for photographs within the 4000 acres of grounds. Zoe from Zoe Warboys Photography took some beautiful photographs with amazing composition within the grounds. My favourite is through the flowers as the couple walk towards the barn. Zoe was so friendly on the day and was brilliant with the children, encouraging some gorgeous, very natural photos.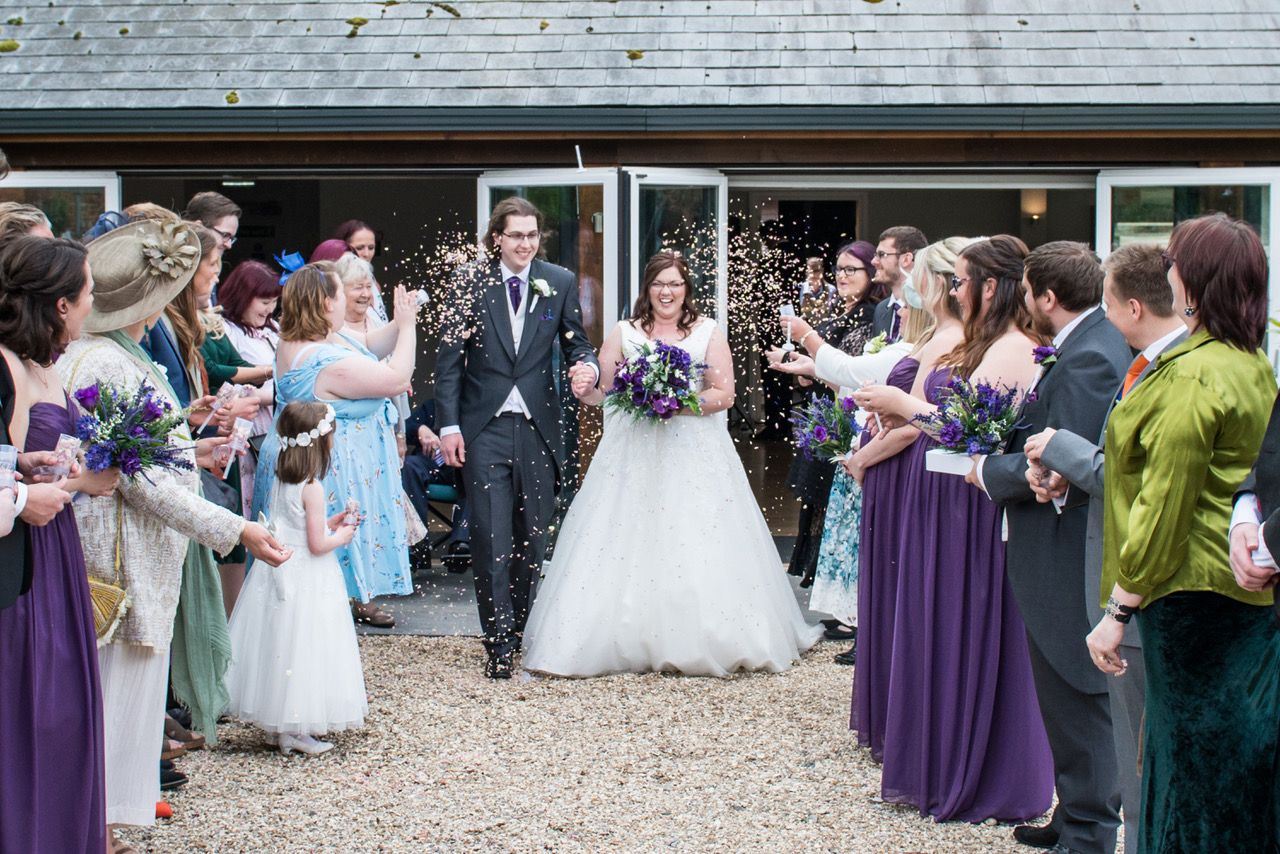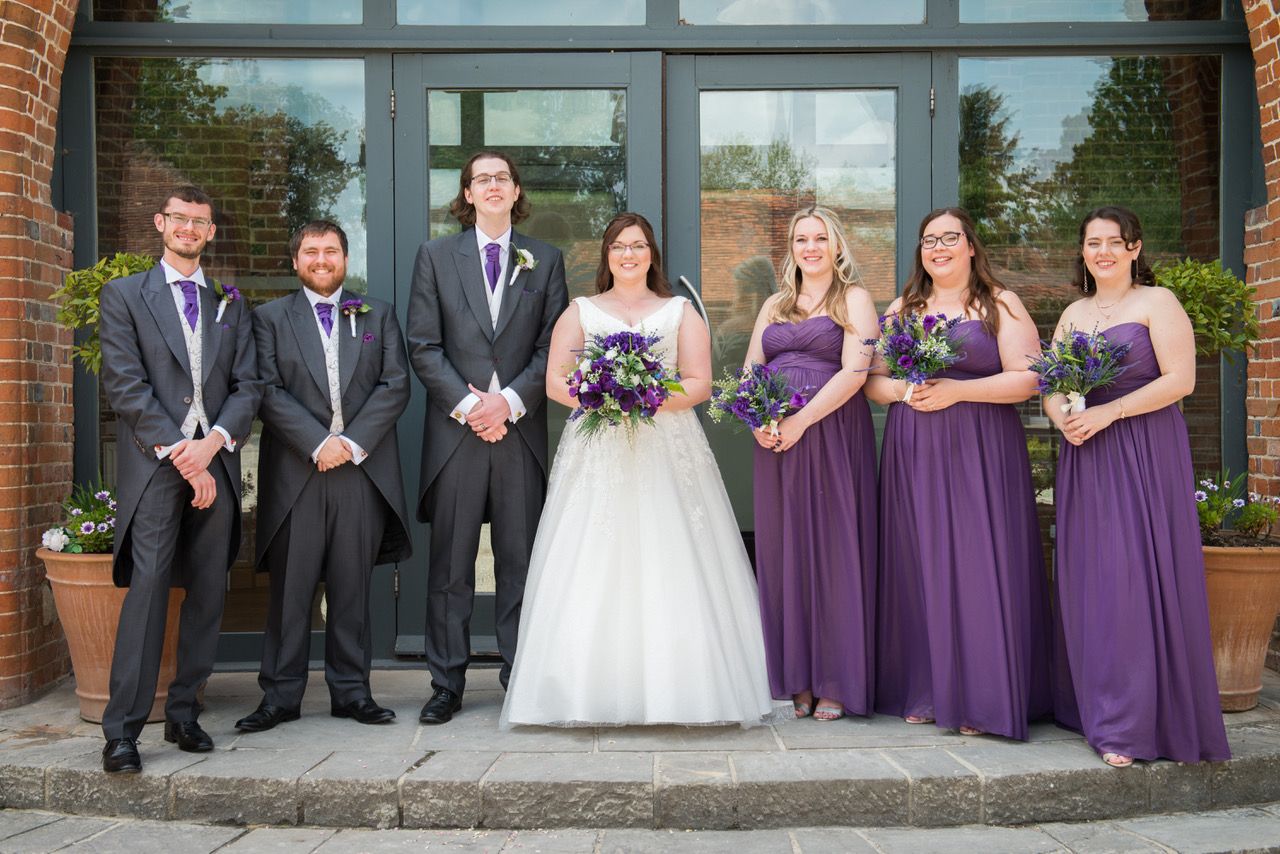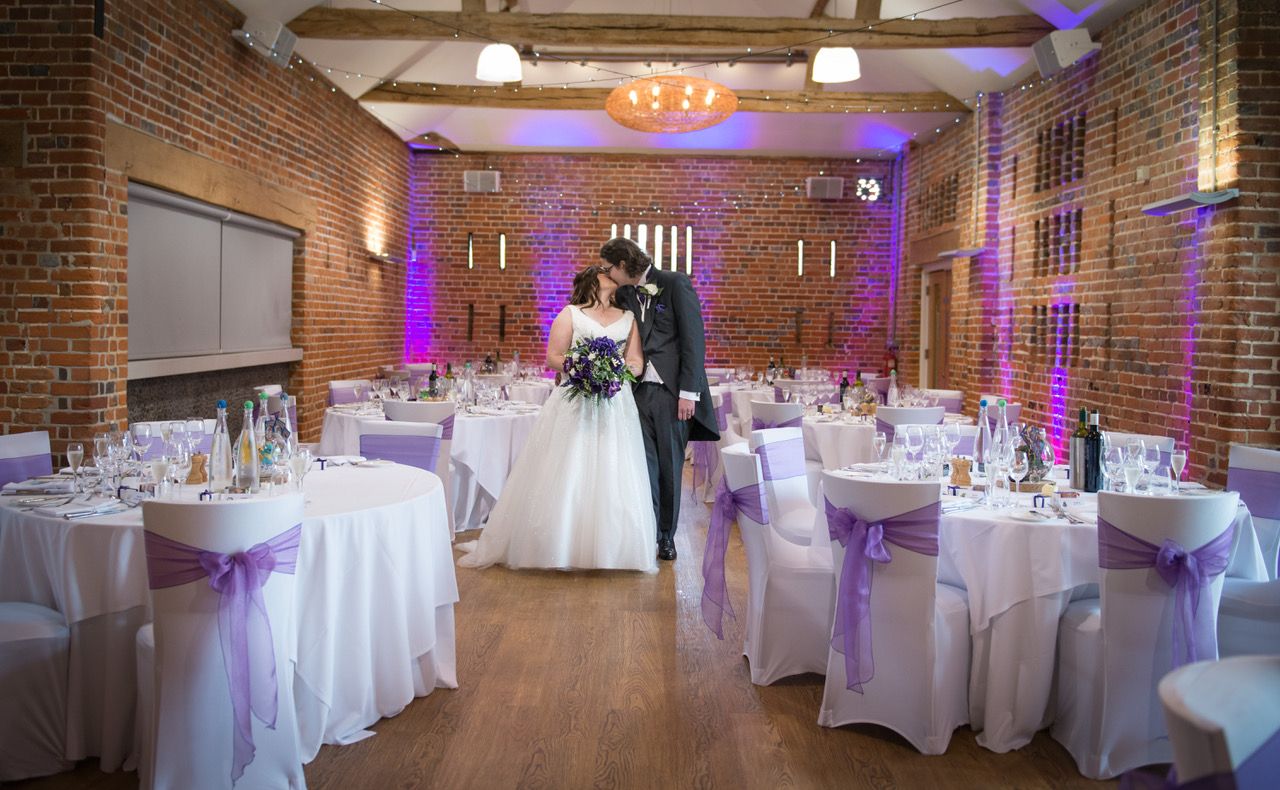 The room was dressed by Southern Lightz who also supplied a candy cart for the evening entertainment! The DJ and the Photobooth were provided by Berkshire Events, a company based just outside of Reading, local to Wasing Park.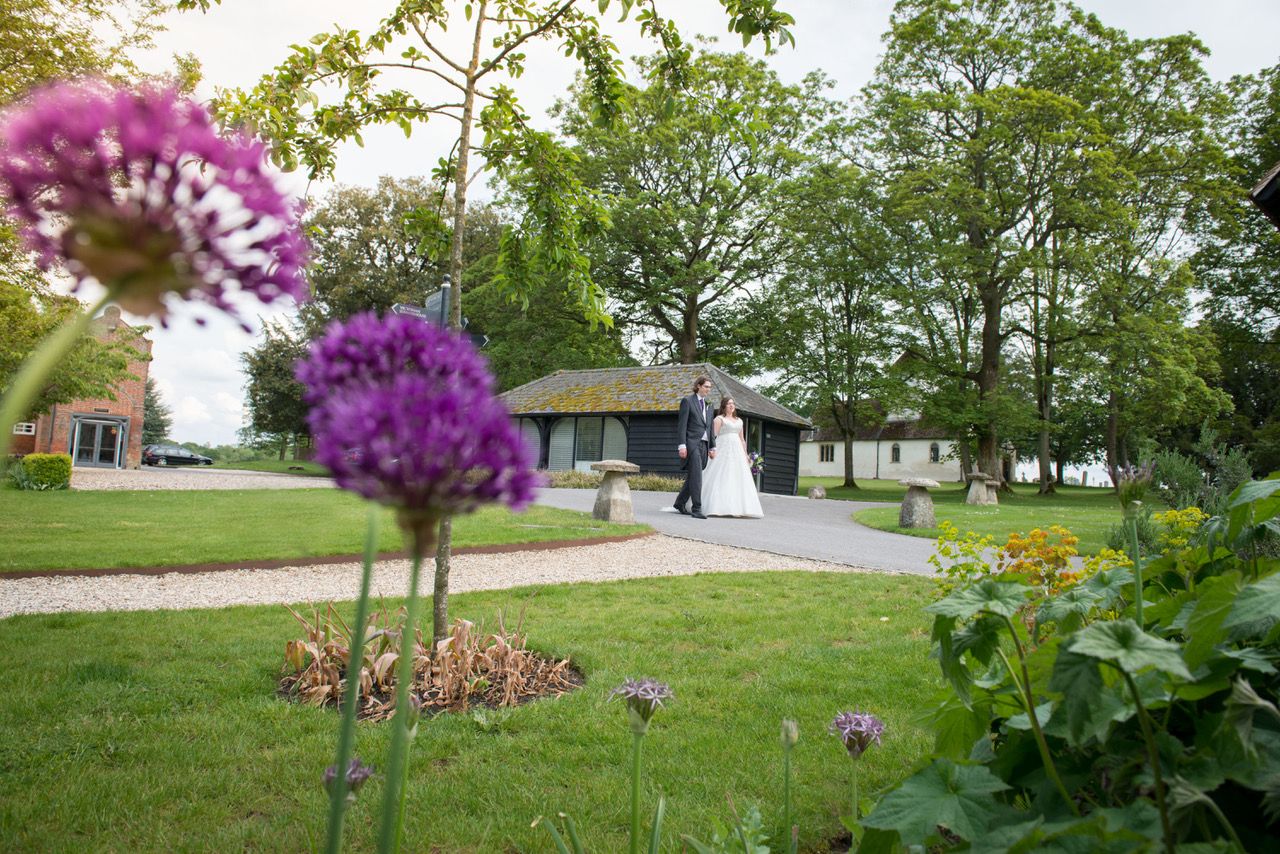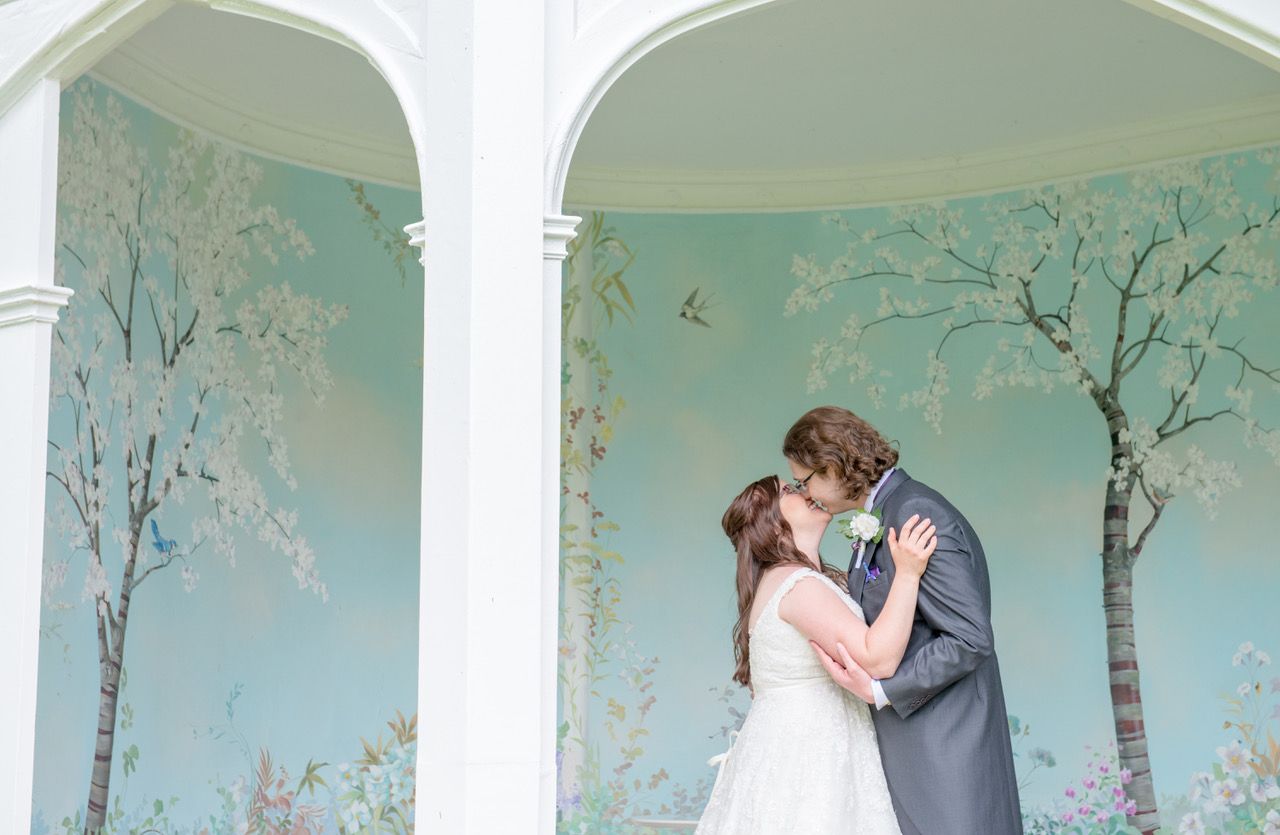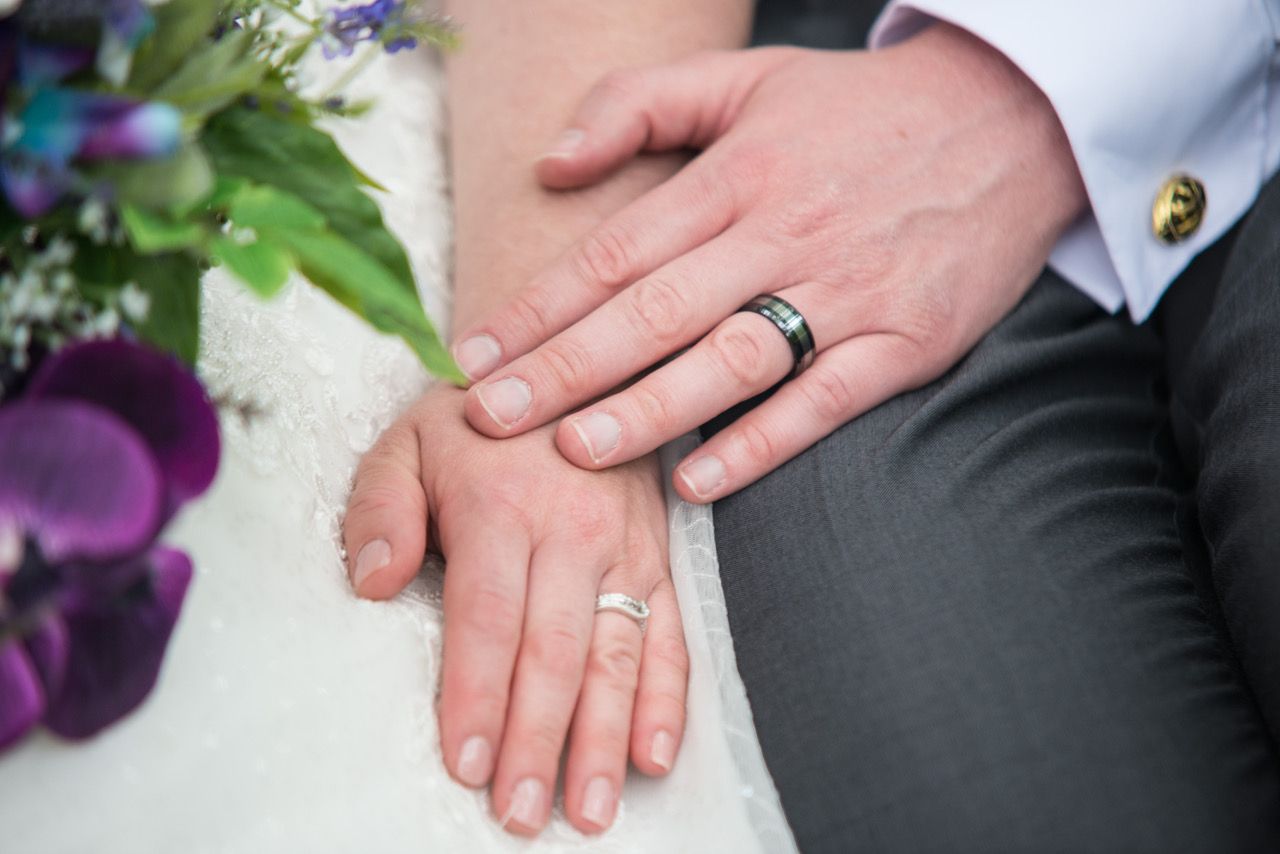 Speeches in the Castle Barn
This historic barn features a grand entrance hall and a stunning reception space with oak beams. It can accommodate up to 150 guests. Kelly and Finn had toasts after their wedding breakfast from Kelly's Dad, Finn and Finn's best man plus a speech from Kelly herself. Hearing how special this day was for Kelly was so lovely to hear and myself and some guests definitely had tears in our eyes! I love recording the speeches because I know they will be so valued in ten or twenty years, long after much of what was said has been forgotten.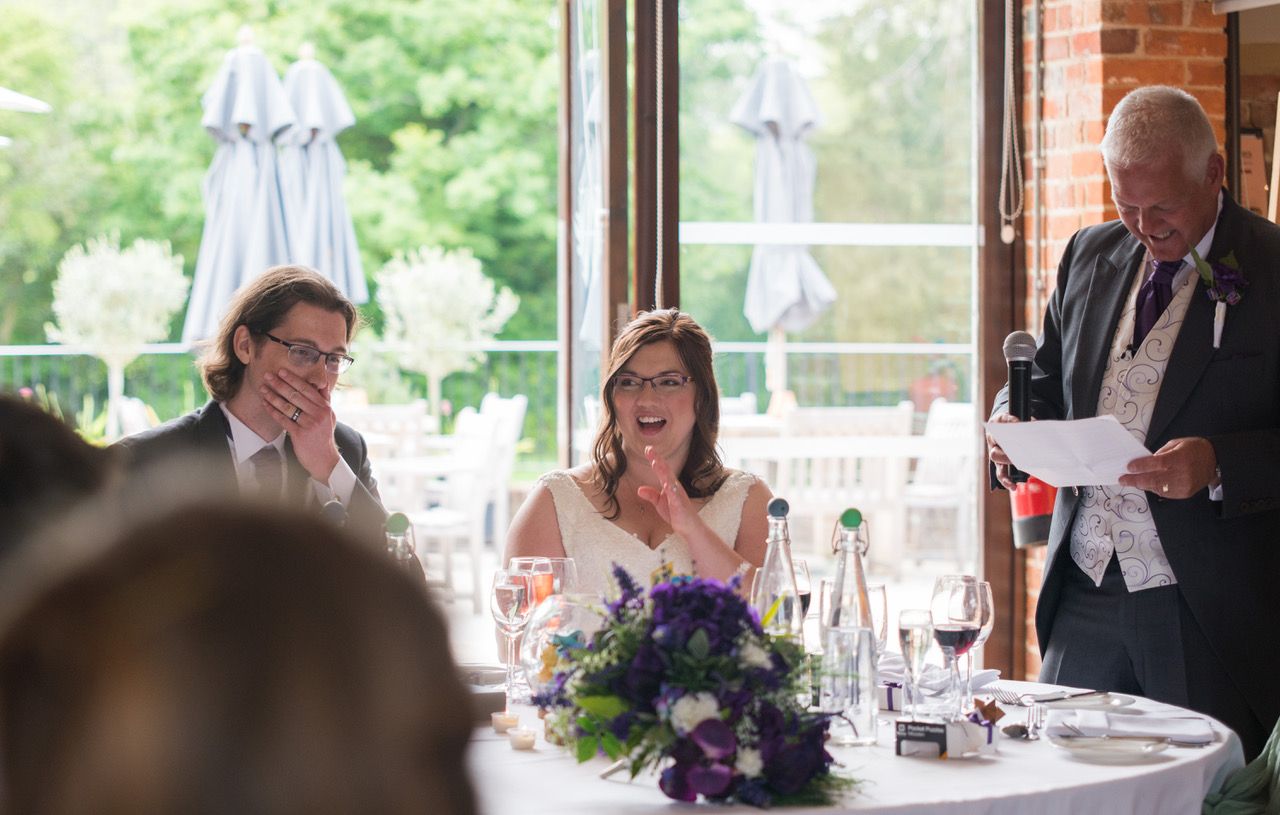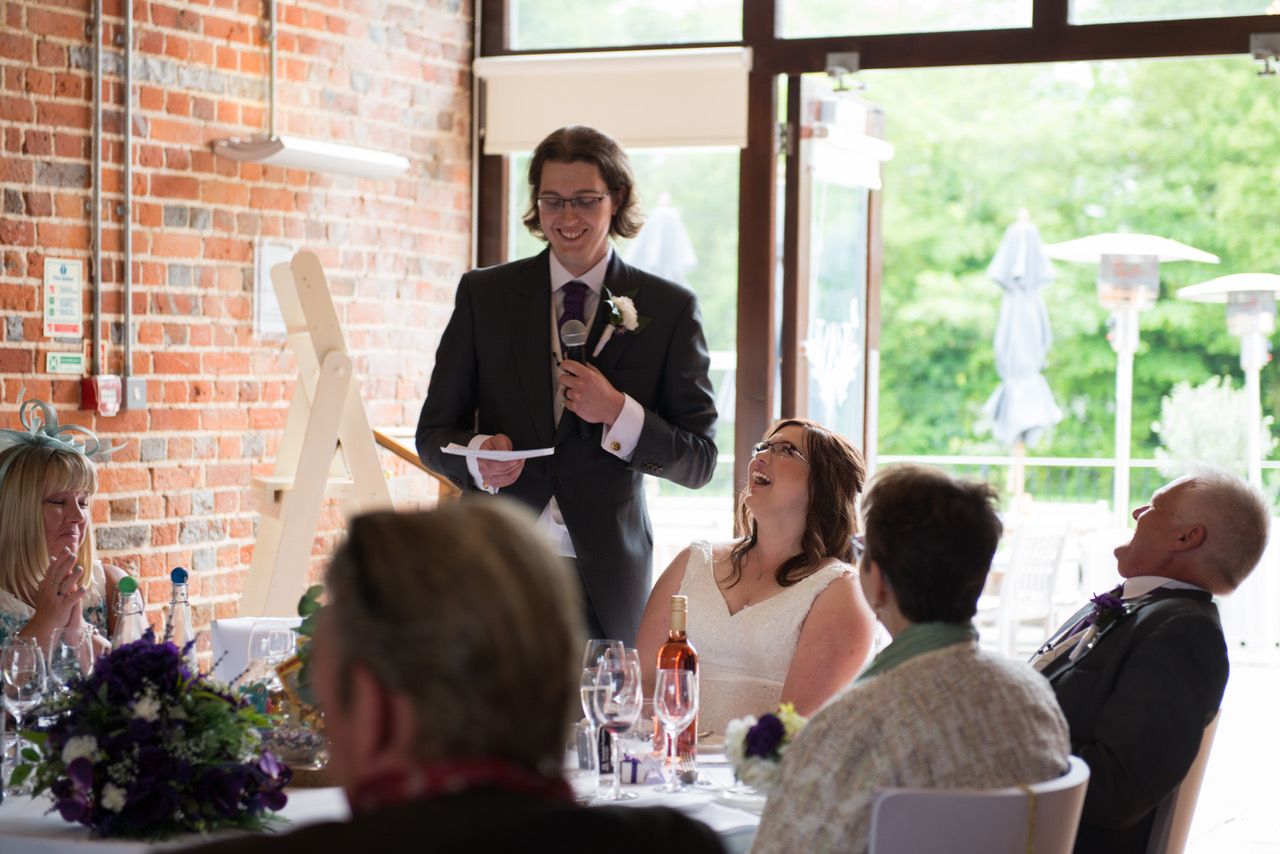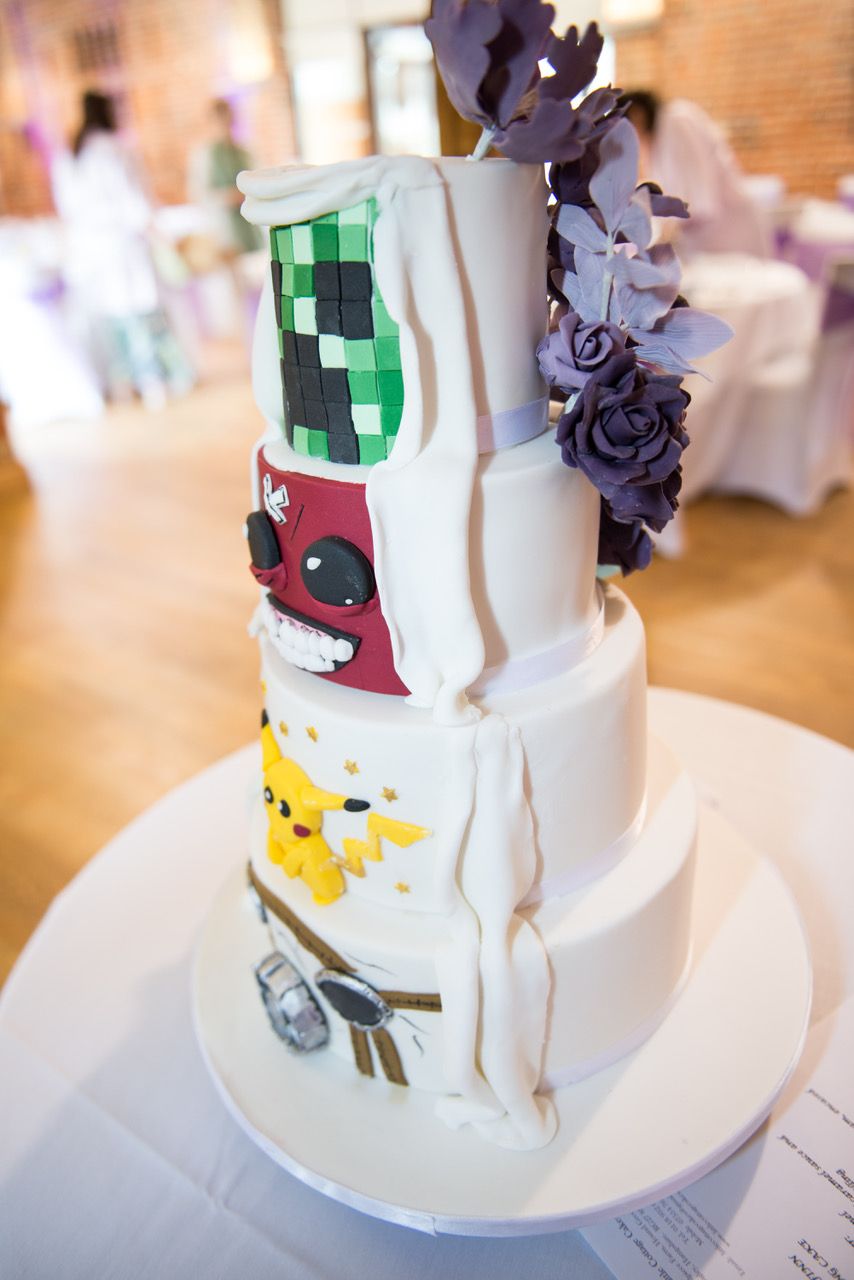 The incredible game themed wedding cake was made by Little Cottage Cakes. I love how it features flowers on one side and characters from various games on the other side! Kelly and Finn also chose chocolates as their wedding favours from Chocolates for Chocoholics.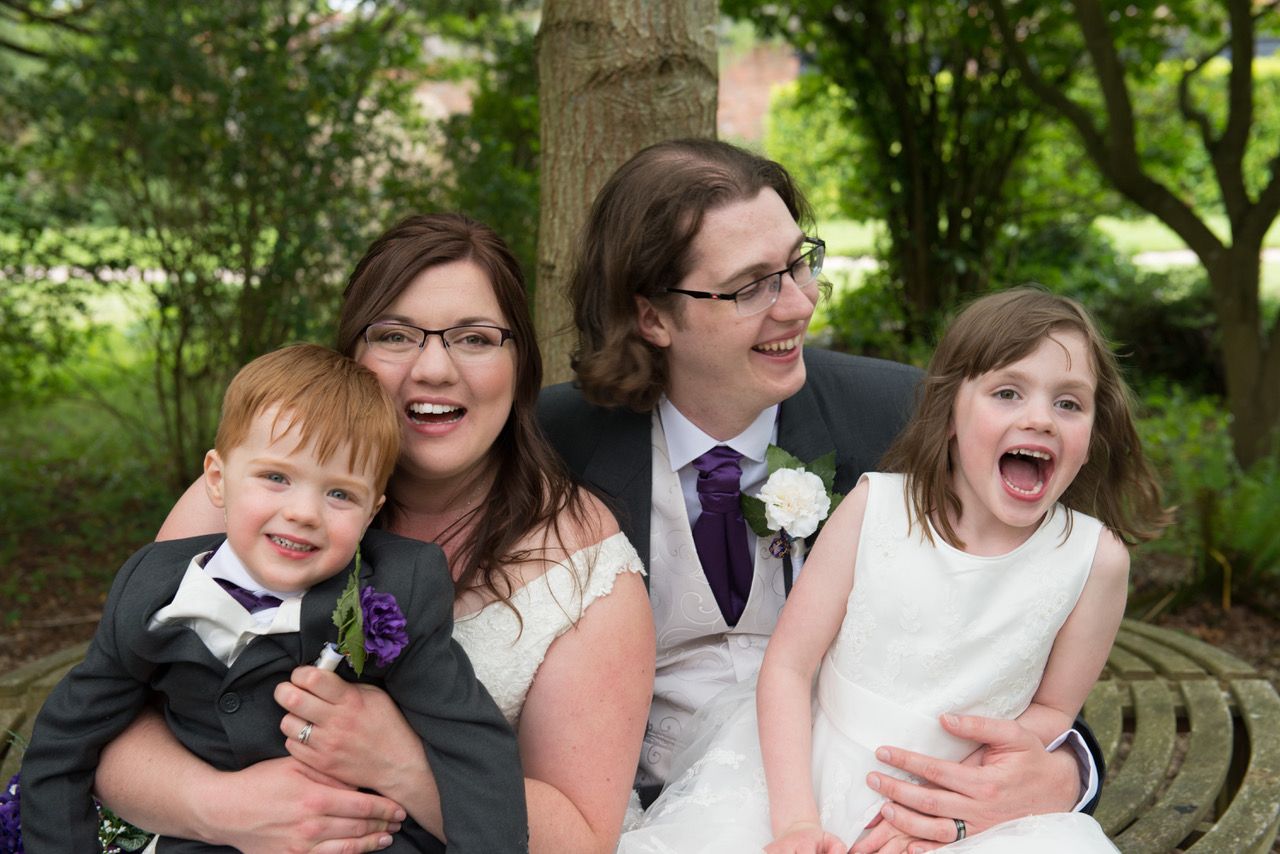 I always love it when couples choose to have a photobooth as it guarantees laughter and lots of brilliant footage for the wedding video. My favourite moment from the evening was when Kelly, Finn and their two children went in the photobooth altogether. There was also some epic dancing on the dancefloor!
A huge thank you to Kelly and Finn for having me to film the day at Wasing Park. Kelly shared some advice for any future couples getting married, particularly those with their children attending.
WEDDING ADVICE FROM BRIDE KELLY
Everything takes much longer than you think it's going to, so try to start as early as possible and/or have a later ceremony - multiple hair/make up people also helps. If you have young children get someone you trust that's not family to take care of them for the day and night so you can properly relax and have fun. Most of all the minor details don't matter, what matters is that you're getting married to your soul mate and are celebrating that with the people you love most.
Berkshire wedding videographer
Veiled Productions films fun, climate friendly 4K wedding videos across Berkshire for modern, guest focused couples. Based near Banbury in Oxfordshire, Rachel from Veiled Productions is centrally located within England to film weddings in Berkshire, Oxfordshire, Northamptonshire and across the south of the country.
Getting married at the Wasing Park and looking for a videographer?
Ready to make the best investment for your wedding? Use the contact page to find out if we're free on your chosen date.