Every Wednesday at 9pm we settle down and get involved with #weddinghour. This week I came across a brilliant idea for these unique wedding invitations. I had to contact Karen from Wedding Tea Towels and request we feature her on our blog. To my delight she said yes!
We love the idea of personalised tea towels – it's so original. What gave you the inspiration to start making them?
We got married back in 2009 and Ben, being a designer, really wanted to come up with something different and cool for our invites. After a lot of ideas… he finally hit on the idea to send a wedding tea towel! Our friends and family loved the idea and our RSVPs came flooding in within hours. That's when we thought, we might be able to make a little business out of it. I'd just had our first child and so was looking for ways to avoid going back to work full time and so we thought we'd give it a go! And more or less as soon as the website was made live, the orders started coming in. Looks like we weren't the only ones desperate for something a little different for our wedding! Now, we have a range of around 20 designs, all beautifully designed and printed on to 100% cotton tea towels. The great thing about them is that they cost around the same your standard paper invitations. They are better for the environment as your guests can actually use them and keep them forever rather than them ending up in the bin!
Do couples tend to use them for invitations or favours?
I would say mostly invitations, we do create a lot of favours but I would say invites are preferential.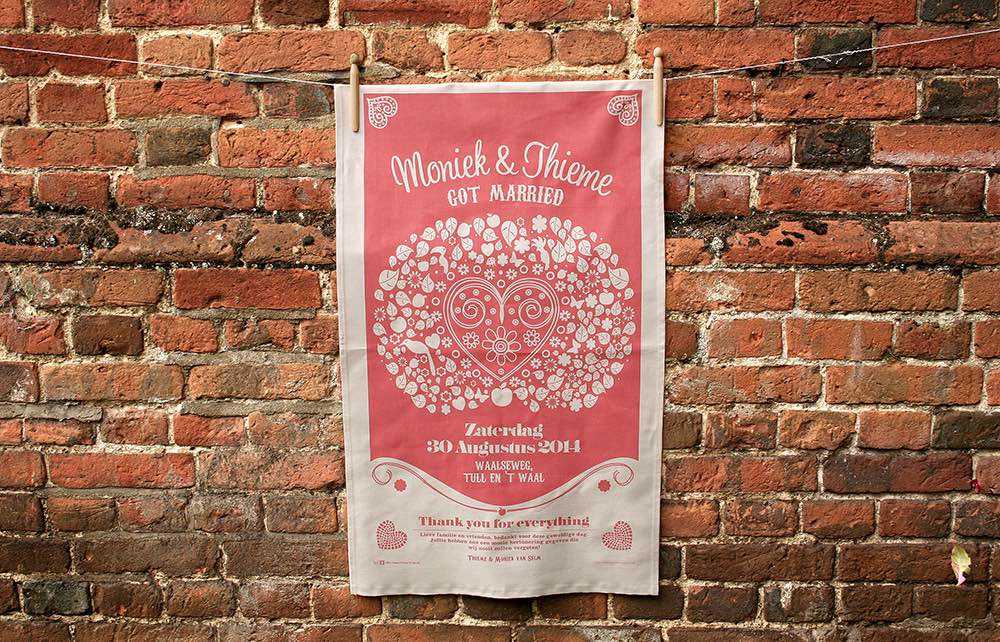 BESPOKE WEDDING TEA TOWELS
From your website there are designs to choose from – can couples create one completely bespoke?
Oh yes! We can and do often do totally bespoke artworks for couples and we love doing them! Sometimes couples are just looking for something more personal and so we can create something from scratch just for them… usually it includes their hobbies, or how they met or their wedding venue but they always look great and give the invitations an extra special touch.

Or for those who don't fancy going the full bespoke route, we can change our classic designs to make them more custom too. So for example, on our Gala wedding tea towel design there is a church and a couple of love birds but if you hate love birds no problem, we can swap them for anything you'd like or if they're not getting married in a church, that's OK too, we can add the couples own venue or a marquee.

As each piece is designed for the each couple we can do pretty much anything! And with a company motto to 'design each wedding invite as though it's our own' there is nothing we like more than going that extra mile to make someone happy!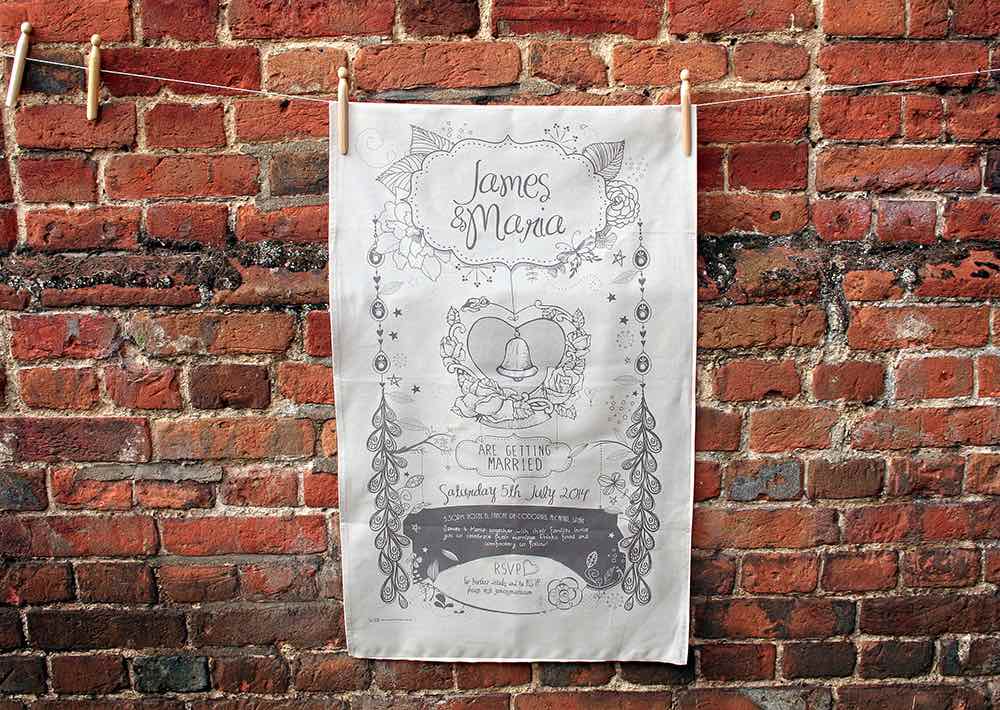 CREATING YOUR WEDDING TEA TOWEL UNIQUE WEDDING INVITATIONS
Are all the tea towels you make a standard size?
Yes they sure are. They are all 780 x 480mm – no larger and no smaller!
Is it possible to have more than one colour on the tea towel?
Yes it is but it does depend on how many tea towels the couple need. But to be honest, we've tried a lot a fiddling around with colours over the years and we really think that in almost all cases, they only really need a one colour print to look fab!
How long does it take to make the tea towels? When should couples contact you?
Our ideal lead time is around 3-4 weeks so depending on how early (or late!) couples decide to get in touch we usually need around that long. We have been known to pull them together more quickly though when it's needed!
THE FUTURE
What are your plans for the future of Wedding Tea Towels?
We just want to keep on doing what we're doing with the couples that we're doing it with! They are the nicest clients any girl could wish for and because it's all run by Ben and I we have total control over it and I think that's reassuring for couples to know that I am always around to help out if they need me or have any last minute questions. We'd be MORE than happy with another 4 years of exactly the same as the last 4 years!
Thank you so much for such a great insight into your amazing business Karen.
Planning your wedding videography?
Ready to make the best investment for your wedding? Use the contact page to find out if we're free on your chosen date.