Polish Traditions
A wedding reception at Longstowe Hall makes for a truly beautiful backdrop for your wedding day. Mark and Natalia's wedding in June 2017 was no exception. The sun shone and the gardens at Longstowe were in full bloom, it was breathtaking. The bride and groom were so much fun to film. There were vodka shots – a Polish tradition – courtesy of Natalia's family. The photobooth made for some hilarious footage and the band definitely got the party started! Natalia's review gave us goosebumps. We are so grateful they chose us to film their wedding. Thank you Mr and Mrs Street!
We can't thank Rachel enough for all her hard work on our wedding video! There are literally no words to describe how absolutely amazing our wedding video is. Rachel's passion and creativity is so evident in her work and we couldn't have wished for a more wonderful videographer on our big day. We will highly recommend Veiled Productions to any future bride and groom! Our video will be treasured forever and passed onto future generations. Thank you!

Natalia Street
Bridal preparations at home
The day started at Mark and Natalia's house where Natalia and her bridesmaids got ready. Natalia had her hair styled by Malwina at Wiktoria's Hair Salon so she wasn't there when I first arrived but it was great to capture her arriving back looking gorgeous! Whilst Natalia was out having her hair styled, her bridesmaids hair was styled by Hair by Lucie and they all looked stunning. Everyone's make up looked absolutely beautiful too, applied so professionally and efficiently by Joely from Joely Richardson Makeup Artist based locally in Cambridge.
I met Ryan from Ryan Jarvis Photography for the first time and he was great at capturing the natural moments as well as the formal photographs. A great moment was when Natalia opened presents from her maid of honour which included two champagne flutes and everyone had a laugh because Natalia had accidentally broken a champagne glass that morning! I love morning preparations for the details too and one of my favourite moments is seeing the wedding dress hanging elegantly. Natalia's gown from Hearts Brides had such gorgeous neckline detail and looked even more stunning on.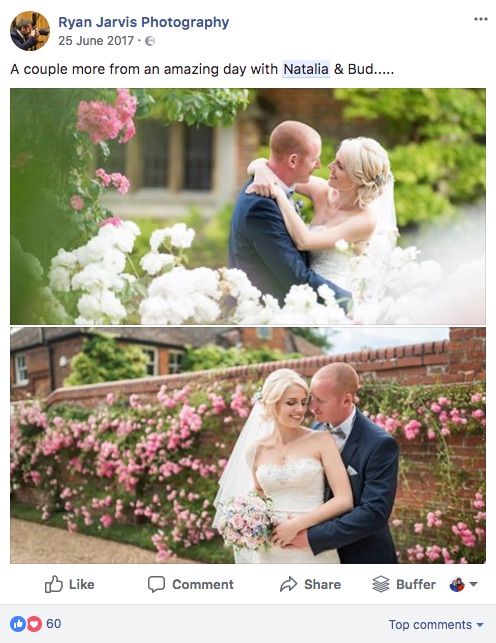 The flowers
Another favourite moment of ours is when the flowers arrive. Natalia and Mark's were beautiful. Supplied by Corrine Turner the bouquets and button holes caused such an incredible reaction, Natalia's Mum sobbed! Natalia said Corrine was brilliant – sending photos of the flowers in the week leading up to the wedding and the on the day they were out of this world, staying fresh all day.
Wedding ceremony at the Parish Church of St Peter and St Paul in Chatteris
The ceremony itself was wonderful. Everyone at the church was so friendly and helpful. Natalia told me one of her favourite moments in the video is when she arrives at the church and one of her bridesmaids is holding back the tears. She said she didn't notice this at all on the day and it's so special to be able to watch this back now. After saying their vows there were a few giggles when they struggled to get the wedding bands on but after a little bit of force it went on and they were announced husband and wife – hurray!
Natalia and Mark's wedding reception at Longstowe Hall in Cambridgeshire
The newlyweds Mr and Mrs Street took their wedding car from Phantom Hire to Longstowe and on arrival said they'd had a little nap ready to party, we all had a great laugh at that! After some welcome drinks with Kyle playing some acoustic songs to entertain the guests, the formal photographs took place in the beautiful rose gardens. Natalia and Mark were allowed inside the hall for a few gorgeous photos before heading into the marquee for dinner.
As Mark and Natalia made their entrance their parents presented them with bread, salt and wine. This was another Polish tradition. Eating this symbolises the hope that they never go hungry in their marriage. After delicious food there were some brilliant speeches. I learnt that Mark's nickname was Bud and there were traditional Polish vodka shots to toast! I love the personal touches to a wedding. Mark and Natalia cut their cake made by their close friend. This was followed by their first dance and entertainment by The Somebodys. We love filming the dancing as everyone is having a great time. The Somebodys definitely knew how to get everyone on the dance floor!
Thank you so much for having me film your wonderful wedding at Longstowe Hall, Natalia and Mark, it was wonderful.
Rachel x
Getting married at Longstowe Hall and looking for a videographer? Contact me below, I'd love to capture your special day.
Ready to make the best investment for your wedding? Use the contact page to find out if we're free on your chosen date.